More than 60,000 people attended this year's event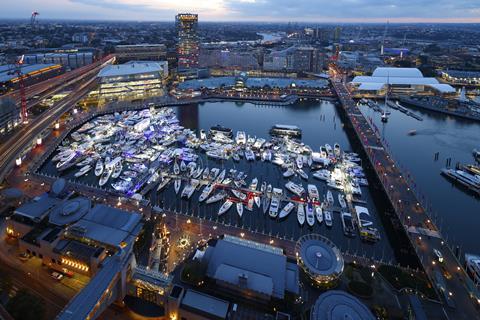 With total attendance at just over 60,000 people, the Sydney International Boat Show (SIBS) was dubbed a "resounding success" by its organisers, the Boating Industry Association (BIA).
"Boating appeals and is accessible to people from all walks of life. This year's boat show has demonstrated that. We're very pleased with the diversity of the offering and the quality of the displays for our guests to enjoy," said BIA president Darren Vaux in a statement from the trade group.
While the attendance figures were on par with last year, even a modest gain has a big impact on an industry that fell off 40% during the global financial crisis a decade ago.
"This was a very solid show," according to Julie Balzano of the National Marine Manufacturers Association (NMMA), who organised the first-ever USA Pavilion, a delegation of American marine businesses exhibiting at the show.
"Everyone here has individual goals and objectives," Balzano told IBI. "Our job is to build it, bring them here, support them in their outreach efforts and make sure they're as prepared as possible and proactive as possible," Balzano said, adding that at least 90% of her member exhibitors said that it was a very good show."
Speaking with IBI immediately upon conclusion of the show, BIA general manager of marketing and events, Domenic Genua, said the Australian marine industry was happy to see their American counterparts.
"I think the USA Pavilion was very, very good for Australia. Australians are very passionate about boating, but they're very astute as well. So, when they go buying their boat, they're looking for quality, and variety, but more so they're looking for products that fulfil their personal social needs on the water, their boating recreational needs. Having the USA Pavilion here, helps our consumer boaties more, because if these businesses find Australian distributors, we're adding to the portfolio of quality products available to Australians."
Given that SIBS is a consumer boat show, not a true trade exhibition like IBEX in the States or METSTRADE in Amsterdam, Balzano said the number of people through the door is almost irrelevant.
"The numbers only tell part of the story," Balzano said. "So, don't go to a show that brags about a tremendous number of visitors, because they may not be the right visitors.
"You have to take a look at the quality of the visitor, and the profile of the visitor and see if your competitors are here. And if your competitors are here year after year after year, there's a reason," she said.
USA Pavilion exhibitors who spoke with IBI during the show were managing their expectations, explaining that sometimes it requires that above mentioned year-after-year commitment and investment to assure success, something Balzano said the NMMA is prepared to do.
"Talking with our exhibitors, we are prepared to come back next year."