While weather hampered opening weekend attendance, exhibitors report good sales at Canada's largest boat show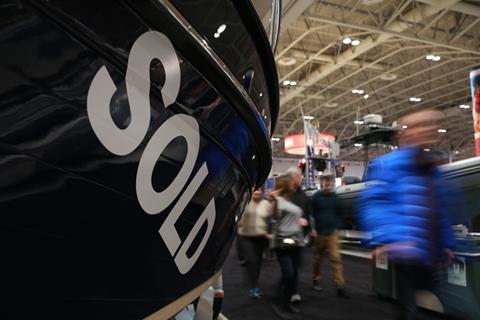 In spite of an attendance drop from the heaviest snowfall of the year falling on its opening weekend, exhibitors at the Toronto International Boat Show reported good sales at Canada's largest boat show.
Attendance for the 62nd annual show was announced as 69,530, marking a 5% drop overall from the 73,464 visitors in 2019. The impact of the opening Saturday blizzard was offset in part by strong attendance for the annual Preview Day – described as the second-strongest Preview attendance in 21 years – and a noticeable uptick in attendance through the week once residents dug out from the snowfall.
Organisers note that more than 1,700 e-tickets purchased online in advance were not redeemed, further pointing to the impact of the inclement opening weekend weather.
Those who did visit the show were there to buy. Multi-line dealership Maple City Marine reported good sales at this year's show. "Great start to the season," said vice president and general manager, Rob Rule. "The boat show is a big part of our business and our 2020 show goals have been exceeded."
Gordon Bay Marine president Bruce Hatherley was equally optimistic, noting "the 2020 show has been very strong for us, surpassing our sales expectations."
With more than 550 exhibitors and 1,200 boats on display, the Toronto International Boat Show is the largest indoor boat show in North America, and widely considered a barometer for the Canadian leisure marine industry overall.
The show returns to the Enercare Centre on the Toronto waterfront from January 15-24, 2021.