Visitor numbers beat 2018 total in spite of unseasonably cold conditions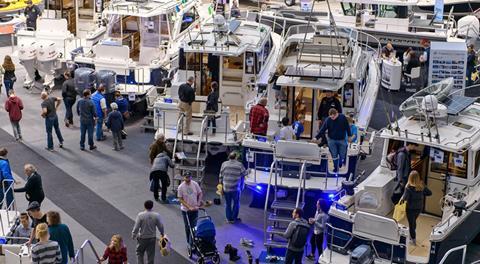 Despite unseasonably cold temperatures that brought high winds and a rare snowfall to the region, attendance at the 57th Vancouver International Boat Show (VIBS) slightly surpassed strong 2018 numbers, pleasing event organisers and exhibitors alike.
Held from February 6-10 at the BC Place stadium complex with an associated in-water component at nearby Granville Island, western Canada's largest consumer boat show attracted a total of 28,764 visitors, just topping the 28,739 who visited the 2018 event.
"Despite unprecedented winds, weekend snowfall and challenging road conditions, the crowd turnout was favourable, and BC's recreational marine dealers and service providers are cautiously optimistic in advance of the fast approaching boating season," said show manager, Eric Nicholl. "By most accounts, exhibitors were greeted by serious buyers."
Like many other North American boat shows this season, VIBS felt the direct impact of an unusual Polar Vortex weather condition that swept across much of the continent. Sustained high winds on Saturday led to the cancellation of ferry services and saw several docks and boats damaged in West Vancouver's Horseshoe Bay, with nearly a dozen vessels breaking loose from their slips and washing ashore.
Continued high winds compounded by snowfall on the closing Sunday prompted the early closure of the in-water portion of the show out of safety concerns.
"In spite of all that we matched our numbers from last year," said Brendan Keyes, general manager at local dealership GA Checkpoint Yamaha. "The quality of buyers was excellent, and particularly buyers looking or larger, heavy-gauge aluminum fishing boats. Interest in personal watercraft was also very strong."
Broker Scott MacDonald at Fraser Yacht Sales was also pleased with the show results. "The weather has been cold but the mood is good," he said. "We are impressed with the quality of people coming through. The crowds have been very strong."
The Vancouver International Boat Show returns to BC Place and Granville Island from February 5-9, 2020.