Cool wet weather dampens mid-week crowds, but sunny weekend skies close show on a high note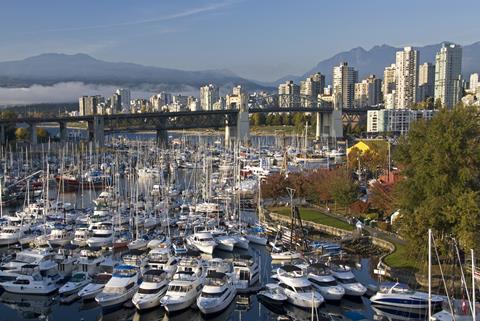 In spite of a minor dip in attendance, exhibitors at the 58th annual Vancouver International Boat Show say qualified buyers made for a successful five-day show.
Held at the BC Place stadium with a companion in-water event at nearby Granville Island, western Canada's largest consumer boat show closed on Sunday with a reported final attendance of 27,650 people, about 4.0% below last year's gate of 28,764. Cold, wet weather was blamed for contributing to lower mid-week crowds, while clear skies and sunshine over the weekend helped close the show on a positive note.
Show manager Eric Nicholl said that while the dip in attendance was disappointing, the key for exhibitors was that buyers were out in force. "Our floating show continues to grow in scope and size," said Nicholl, who described exhibitors as being cautiously optimistic over the coming season. "A strategic mix of marketing initiatives are introducing more new boaters to the boating lifestyle, which will help fuel future growth in the industry."
Exhibitors noted particularly strong sales of large aluminium fishing boats and large fibreglass boats, along with a higher proportion of first-time buyers at this year's show. "We saw genuine interest from people wanting to get into boating this coming season," said Bob Papajohn, president of Vancouver-area Boston Whaler, Beneteau and Sunseeker dealership M&P Mercury Sales. "People were engaged across all of our brands and models. Our fishing boats and runabouts did extremely well, and our Heyday wake-surf boat was definitely our most popular model."
Jason Burks, general manager of multi-location Jeanneau, Cutwater and Prestige dealership Sundance Yachts, said he was extremely satisfied with show traffic this year. "This was the West Coast unveiling for both the 590 Prestige and the 420 Prestige, and we saw people from all over come to see them," he said. "Most were serious buyers looking to purchase this season."
For fractional ownership company SeaNet, good numbers of legitimate prospects made for a strong show. "We noticed a higher quality of buyer this year," said general manager, Roderick Roy. "We're already looking forward to coming back next year with our Absolute 50."
The Vancouver International Boat Show is owned by the Boating BC trade association and produced by Canadian Boat Shows.