Dutch design studio is taking its VriThink presentation to the 2019 Dubai International Boat Show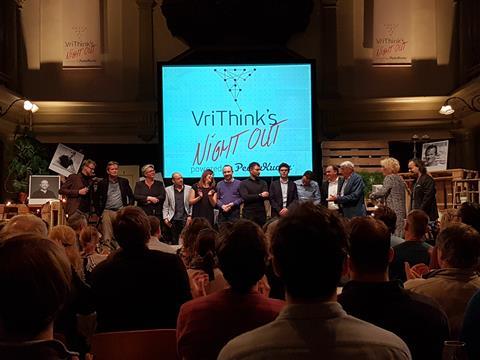 The popular VriThink presentation, held annually in November on the eve of the METSTRADE Show in Amsterdam, will also be staged at this year's Dubai International Boat Show on the evening of Wednesday 27 February.
The event has been running in Amsterdam for seven years and last November attracted 450 guests, mainly from the industry and eager to learn about new ideas and concepts.
A statement from joint organisers Vripack and the Dubai International Boat Show says: "Always pushing the envelope of innovation and leading from the front, Dutch yacht design studio Vripack is spreading its wings in 2019 and taking its acclaimed VriThink's Night Out on tour to the yachting hub of Dubai.
"Organised in close partnership with the Dubai International Boat Show, this will be the first time Vripack's PechaKucha-style event will take place outside of the studio's home town of Amsterdam. The philosophy behind VriThink – Vripack's open trend platform – is to respond to, and engage with, a new generation of yacht owners and their hunger for innovative design. Driven by a desire to revolutionise life on board, it successfully sparks debate by challenging the norm and harnessing change."
The format of the event will be similar to the events staged in Amsterdam over the last seven years. A line-up of 12 speakers will each be given five minutes in which to deliver 20 slides of their choosing, with 20 seconds attributed to each slide. Fast-paced and dynamic, it elevates the more traditional mode of presenting and transforms it into a wholly exhilarating and fun experience.
"We're immensely excited about hosting the Middle East's first-ever VriThink Night Out at the 2019 Dubai International Boat Show," says Riju George, portfolio director at the Dubai World Trade Centre. "It's one of the only events of its kind and its easy digestible format ensures that each and every presentation stimulates and inspires all those lucky enough to attend."
Solco Reijnders, program manager of innovation at Damen, who will be presenting on 'Co-creating our way through the challenges of today', comments: "The VriThink format deserves to be replicated internationally. It is a great opportunity to spread good ideas to a broader audience. I believe that by sharing good ideas, great ideas are born. The marine industry is still quite closed and these types of events can boost innovation."
IBI has attended the Amsterdam event in recent years and is interested to see how the concept will work in a different setting and business culture. Attracting the local industry will be a key issue for the organisers to address.