Galeon's latest new-model launches have been making waves and winning customers. Now the builder is investing to boost capacity and R&D as it looks to capitalise on the brand's growing reputation for innovation 
Galeon, the Polish boatbuilder whose recent motoryacht launches have been turning heads at the autumn boat shows, is undergoing a transformation as it invests in facility expansion and upgrades to boost capacity and its research and development (R&D) capability. Earlier this year, the company, which employs a workforce of around 1,200, launched a new 6,000m2 storage facility and began the construction of an 8,000m2 laminating factory at its second site in Wislinka, a stone's throw from Gdansk, the largest city in the northern region of Pomorskie. A new assembly plant is also on the drawing board, while a new production hall for the shipyard's stainless steel department is close to completion. The Wislinka facility is dedicated to the construction of boats 50ft and above. Smaller craft are built at Galeon's original facility in Straszyn, on the Polish Baltic coast, 317km north of the country's capital Warsaw.
COMPANY PROFILE
Established in 1982
Based in Staszyn (on the Baltic Sea) plus a marina in Wislinka (near Gdansk)
1,200 employees
Two model ranges:

Galeon: sport cruisers, hardtops, flybridges, and skydecks; 30 - 70ft (150 units in 2017)
Galia: 14 models of outboard motorboats (a few hundred units sold annually)

95% of production is exported
Main markets: US, Russia, France, Germany, Switerzerland and W. Europe; expanding in Australia and New Zealand
Another significant project involves Galeon's Wislinka site, and the marina at that facility where it tests the performance of its craft. "We are considering making the marina available to our customers, but for this we need to provide a winter storage capacity," explains managing director Grzegorz Tuszyński."A facility of between 5,000m2-6,000m2 would allow us to provide our customers with additional services for their craft. We want to start working on this project by the end of this year," he adds.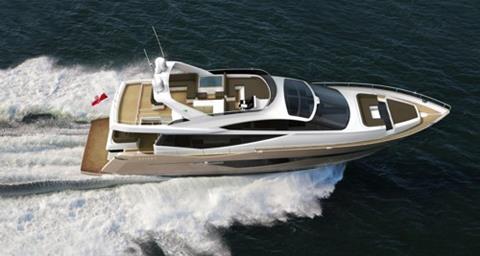 Unsurprisingly, the boatbuilder, which sells its craft under four product categories – sport cruiser, hardtop, flybridge and skydeck – is to expand its model portfolio too. The Galeon range currently starts with the 300 Fly, topping out with the flagship 780 Crystal. However, most of its sales are currently dominated by motoryachts from 40ft-70ft.
According to Galeon, the company built around 150 craft last year, reporting a considerable increase in both revenues and units. Galeon also offers a 14-model range of smaller motorboats with outboard engines under the Galia brand, of which a few hundred units are sold every year.
This year saw the launch of the 470 Skydeck and the 640 Fly at Düsseldorf in January, and the 650 Skydeck at Cannes in September. The new 425 HTS will make its debut in Paris in December. The team are currently working on three new models for the 2019 season, including a 400 and 680 Fly.
"The 400 Fly will be our smallest craft with open hull sides. The 680 Fly is a new model designed from scratch. The boat will be built this year, and it will also feature a range of interesting technical features, including automation solutions," says Tuszyński. The 680 Fly is to have its premieres in Düsseldorf and Miami next year.
Since the unveiling of its 'Beach Mode' concept – on the 500 Fly, three years ago – Galeon has been building a reputation for innovation. That boat with its Beach Mode concept, allowing for one side of the boat to fold down to extend the deck to create a breakfast bar with partially glazed floor – ensured it was named winner of the Innovative On-Board Design Solution category sponsored by Fusion at the Boat Builder Awards that year, and has since become a welcome feature across the range.
The new 640 Fly, powered by Volvo Penta's D13-1000 engine, picked up the Cannes World Yacht Trophy at the Cannes Yachting Festival and at the time of going to press had also been nominated for a European Powerboat of the Year award. As well as the Beach Mode, it also features a clever retractable front windshield that transforms the useability of the space inside by allowing direct access from the stern to the bow. An innovative two-way stair system allows a three full-beam cabin layout, or a four-cabin layout to suit larger families and charter groups, adding to the 'flow' of the interior.
The new 640 Fly and 650 Skydeck are arguably the most potent symbols yet of just how far the Polish builder has come since it was founded in 1982, and provide a glimpse of the firm's potential going forward. "These two boats have the majority of our new technical solutions, such as the Beach Mode that extends the width of the cockpit," Tuszyński explains. "The 650 Skydeck allows you to close the top deck with the press of a single button. The bow deck area of both craft can also be accessed through the electric front window entrance. Both boats have openable balconies. The 650 Skydeck distinguishes itself with a very sporty, aerodynamic look. The yacht's hybrid superstructure features carbon elements. But many of the innovative features of this model are not on show, but within the boat's construction."
Innovation
Innovations are setting Galeon apart from the competition and having a direct impact on the bottom line. According to marketing manager Maciej Samet, its most popular models are ones that feature the Beach Mode option – namely the 460/470, 500/510, 640/650 and the 550/560 models for the US market. "It seems the market has really taken to liking this feature," he maintains.
"2018 was a great year but it would be impossible to achieve a similar growth as in 2017 which was record setting," Samet continues. "We are estimating that we will launch a similar number of vessels as in 2017, around 150 units, but bigger models. We are doing fewer entry-level boats of around 30ft-40ft and much more bigger ones. The 500 model alone has had 100% growth year-to-year. This will mean a bigger turnover and profit."
New foreign markets
As much as 95% of the company's output is intended for export sales, with those remaining domestic buyers for the most part keeping their boats in the Baltic, on the Masurian lakes in Poland's north-eastern territory, or in the Mediterranean. Croatia's Adriatic Sea is also a major draw, according to Samet. That Galeon counts such a large percentage of overseas customers is hardly surprising, representative as it is of a country whose industry is heavily dependent on exports. Data from the Polish Chamber of Marine Industry and Water Sports (Polboat), indicates that in 2017, local companies produced about 21,500 craft, an increase of 13% compared with a year earlier. The sector exports the same estimated value, 95%, of its output, with the majority of sales intended for Western Europe.
Growing network
Galeon's main export markets comprise the US, Russia, France, Germany, Switzerland and various EU member states. The boatbuilder also hopes to establish a stronger foothold in Australia and New Zealand, and Asia, though its management is conscious of the challenges related to launching sales to new overseas markets.
"Each foreign market outside the EU requires us to analyse its regulatory framework, in particular the regulations that are related to electrical equipment, automation, and also to understand the underlying philosophy of particular markets. What local customers are looking for, and how to offer them attractive products," Tuszyński explains. "A given boat will not appear as attractive in each market, which is why we need to adapt our craft to the needs of particular markets. This can be a time-consuming process. For instance, before we decided to enter the US, we needed one year to prepare for our launch."
Galeon has around 50 dealers worldwide to date, and including sub dealers, is represented at more than 100 locations. It is present in approximately 30 locations in the US through its dealer MarineMax. The network continues to grow – more recently in South East Asian markets such as Vietnam, the Philippines, and Thailand.
Galeon has also intensified its promotional efforts in Australia. At the Sydney boat show in August it made the announcement that it would be coming officially to Australia in 2019. By the end of this year, Galeon hopes to finish two yachts – the 510 Sky and 460 Fly with Beach Mode options that it aims to present at the Sanctuary Cove International Boat Show on Queensland's Gold Coast in May. The Middle East also holds appeal, though Samet admits it requires a lot of preparatory work, given the number of brands with a robust presence there. Success for the brand going forward seems pretty much assured if the Polish builder can continue to bring the dedication and spirit of innovation evident in its burgeoning product portfolio to the rest of its business.