The ability to think outside the box, coupled with a deep understanding of technology, product requirements, industry trends and passionate people, is helping this Kiwi firm revolutionise the market for entertainment onboard
Apollo – the industries most awarded marine stereo – has proved a game-changer, transforming the concept of onboard entertainment. Standout features include its built-in WiFi streaming to connect multiple Apollo stereos to play in sync; Digital Signal Processing to deliver distortion free audio, system protection and a technically superior listening experience; Apple Airplay enabling the user to stream high-quality audio directly from their favourite apps without introducing compresion; its PartyBus mode, Smartphone updates, and a host of other features providing unrivalled functionality in a package that looks great on the dashboard too.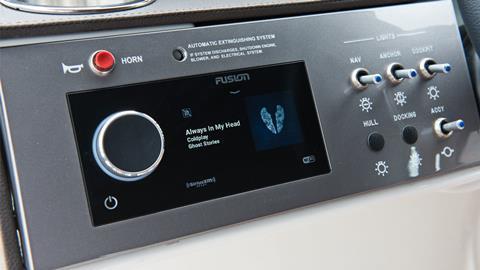 Little wonder it's had a big impact, picking up a host of innovation awards, including the Pittman Innovation Award, NMEA Product of Excellence, NMMA Innovation Award, IBEX Innovation Award, and an honorable mention in the DAME Design Award, since its launch in 2018. But for Apollo's creator, Fusion, the journey of bringing the Apollo dream to reality has been revolutionary too, testing its engineers and designers to the limit and raising the Kiwi firm and its aspirations to another level.
Revolution road
In essence, the Apollo journey began 14 years ago when the Auckland firm that started life back in 1998 as a home-grown car audio brand decided to take the market for onboard marine entertainment seriously. "There is no question that we realised that customers were going to demand more of their onboard entertainment before anyone else did… and most of them still haven't worked this out," says Fusion's managing director, Chris Baird. "The OEMs that we proudly work with today are switched on to what their customers are now expecting as 'standard'. There are still OEMs and retailers that just don't get that their customers love to be 'entertained' while out boating."
"The R&D process actually starts in the field… getting to know your customers, OEMs and seeing first-hand what their problems are."

Chris Baird, Managing Director, Fusion
Since those early days, Fusion and now its parent, Garmin, has spent millions of dollars on product development, engineering, testing, manufacturing and marketing. Fusion may be in the entertainment business, but sweating the details and putting in serious legwork to understand the needs and desires of clients is fundamental to the company ethos.
"The R&D process actually starts in the field where I personally spend a lot of time and I make sure that our product manager, engineering manager and marketing manager also do the same. I actually believe that this is why we continue to design great products that sell well and win awards. Getting to know your customers, OEMs and seeing first-hand what their problems are, helps enormously when we sit down to design and engineer our products."
Fusion's ability to join the dots and come up with something truly innovative when it comes to user experience may in part be down, Baird believes, to geography. "New Zealanders and people that move to New Zealand seem to have a different view on the world and can think outside the box," he says. In the end, says Baird, "you need brilliant people to be successful in our market. We give our teams plenty of rope and luckily most times they don't strangle themselves but excel!"
They also have that knack for knowing how to enjoy themselves, a trait not to be underestimated in the entertainment business. Fusion employees put themselves and their experiences into the product – Apollo bears testimony to that.
Learning curves
Interestingly, where automotive trends might inform much of what the marine does and aspires to, Fusion says it takes little influence from that sector – before Fusion, 'marine audio' often simply meant marinising car sound systems. "To be honest, we try to not take notice of that market. People that go boating are doing this because it is a sport, passion or for just plainly having a good time. This is why marine entertainment is so important for our customers and why we are always busy at boat shows. People want to get on the water and forget their day-to-day stresses and problems. What better way is there than just enjoying your favourite music out on the water?"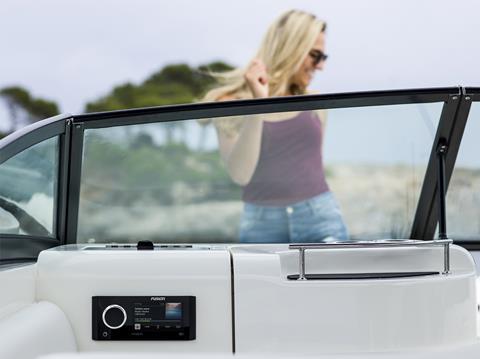 There have been learning curves too. "Speed to market is still the most frustrating area of our business, but Garmin has added a much more stringent testing regime," Baird admits, "that has added another level to our products and this ultimately is the right thing to do."
The future with Fusion
Fusion may have a laser-focus on marine, but the leap the company has made with Apollo has not gone unnoticed in other sectors. The Kiwi firm is already making plenty of noise in the RV market – iconic travel trailer manufacturer Airstream just announced that it will be installing the Apollo 770 on thousands of its vehicles, a deal that is undoubtedly a massive boost for a firm that's been punching above its weight for the best part of a decade. And there's more to come. A whole new range of products is in the pipeline for launch at METSTRADE 2020. Can it raise the bar again? Given the journey it's already been on, you wouldn't bet against it.