Team due in Savusavu this week to carry out reconnaissance on the Nawi Island Channel
Plans to have the Nawi Island Marina operational by May 2020 have received a major boost with the involvement of the Fiji Navy and its Hydrographic Unit.
The Fiji hydrographic office is the national charting agency and is responsible for the conduct of hydrographic surveys. The office will be sending out a team to Savusavu this week, where they will carry out reconnaissance on the Nawi Island Channel before the major sea bed mapping in a few months.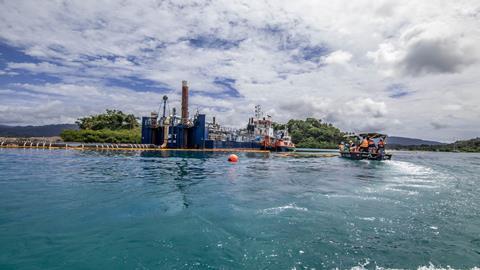 According to the Fiji Navy, the hydrographic survey of the Nawi channel will allow new depths in the channel to be found especially after the dredging operation which is currently being carried out.
There are several reasons why hydrographic surveys are important, with the main purpose being for navigation. When yachts, superyachts or catamarans set their sight on Nawi Island Marina, they will use hydrographs to establish whether an area is safe to head into, either in advance or while on the water.
The survey which will be carried out by the Unit will also enable relevant authorities to determine the maximum draught for vessels allowed in the channel. It will ensure the channel is surveyed with full bottom coverage using latest survey equipment. Any changes to seabed topography, aids to navigation and coastline will then be updated in the relevant nautical chart.
This survey will result in the production of maps for the Nakama channel and the most importantly the Nawi Island Marina. It will ensure the latest up to date nautical information is available to mariners using the channel. it is mandatory for ships visiting a port to have the latest nautical information for safety of navigation.
Apart from allowing for safe navigation into the Nawi Island Marina channel, the survey will bring long term benefits for surrounding villages, the local community as well as the shipping industry and the nation's Blue Economy as it will allow for more traffic of yachts in and out of Savusavu.
At present, Nawi Island Marina channel is being dredged by internationally renowned Halls Construction.
The Nawi Island Development will put Savusavu on the international map with the introduction of a 130-berth world class marina, a boutique resort and spa along with the sale of 38 lots on the private island.