Robert Hathaway managed Marigot Marina for eight years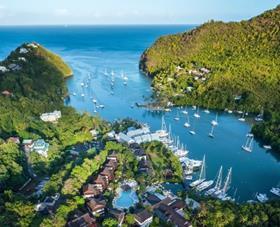 A former UK marine industry businessman, Robert Hathaway, has reportedly been murdered on the Caribbean island of St Lucia. The 66-year-old was manager of the island's Marigot Marina between 2006 and 2014.
Prior to moving to St Lucia, Hathaway had been involved in the leisure marine industry in the UK and Mediterranean for 15 years. He was technical director of Victoria Yachts in Warsash, England from 1990 to 1999, and worked with North Wind Yachts of Spain from 2003 to 2006.
IBI understands that he was also manager of a leading Mediterranean marina able to berth large superyachts which led, it is believed, to his employment at Marigot. He had an engineering degree from Cambridge University.
In terms of the alleged murder, St Lucia Police are now investigating after Hathaway's body was found at his home in Grand Riviere, Gros Inlet on St Lucia.
Keats Compton, president of the Marine Industries Association of Saint Lucia (MIASL) and a close friend of Hathaway, described the death as "horrific".
Compton commented: "Apart from anything else, Bob was a pal of mine. He was on the executive committee of the MIASL and he was an integral part of it. I'm also concerned because the yachting fraternity is very close-knit, and the fact that this kind of thing can happen… if it's not reported properly, it can do the industry quite a lot of damage."
Marigot Marina is described on its website as St Lucia's 'premier marina'. The Marina Bay Resort & Marina is a luxury destination offering a wide range of facilities in addition to the marina. It has 42 berths and 20 mooring balls for yachts and superyachts up to 85m (280ft). The marina is a recognised hurricane hole and one of the Caribbean's safest anchorages during rough seas.