Berthon to represent South African RIB builder in the UK and Ireland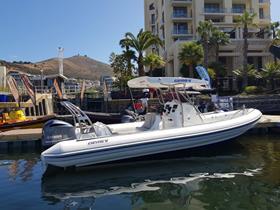 South African RIB builder Gemini Marine has appointed Berthon as its sole dealer for the UK and Ireland.
Founded in Cape Town in 1979, Gemini Marine designs and manufactures a range of leisure RIBs, military, rescue and commercial vessels. Berthon is one of the world's leading refit, engineering and blue water yacht sales specialists.
Gerhard Neethling, Gemini Marine's global sales and marketing manager, says the deal coincides with Gemini's worldwide expansion programme "to serve the rapid increase in the need for quality RIBS".
"Berthon is the perfect choice for the UK and Ireland Gemini dealership," he says. "We believe that our companies share the same values: together we can achieve remarkable things. Both companies have long and successful histories in a number of different sectors of the industry. These range from leisure and commercial to military and rescue."
Berthon director Dominic May said Gemini's range of RIBs and inflatables "neatly fills the gap in our product portfolio".
"We are thrilled to be appointed to represent the Gemini RIB range in the UK and Ireland," May said in a joint press release posted on the company's website last week. "Berthon has long been involved in both the leisure and commercial boat market, and we are now offering the Gemini product to all our customers. With customisations which we will carry out in our Lymington shipyard, we can take a standard product and make it suit every customer's unique requirements.
"Many leisure Geminis have been delivered to happy customers including day boats, superyacht tenders and yacht racing chase boats," the press release said.