New network of marinas to be developed in coming years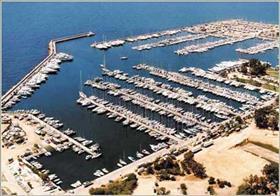 At the 2018 World Travel Market exhibition in London, England on Monday, Greek Tourism Minister Elena Kountoura highlighted the importance of the tourism industry to the Greek economy and spoke of the significance of marine tourism, both cruising and yachting, as part of the sector's future plans.
The Greek tourism market is set to have a record year in 2018. This follows on from continuous and consistent growth for tourism over the past four years. "This was a performance beyond everyone's expectations," Kountoura said. "Greece's tourism industry had performed a small miracle for the Greek economy, which has grown 2.1% this year and is expected to grow a further 2.5% in 2019, its highest rate of growth for 10 years.
"In this new era that has begun for Greece and the Greek economy, with everything we have achieved in tourism, our goal is to maintain this strong momentum and grow even more," she said.
A key message about the future development strategy for Greece's tourism industry is that supporting the growth of marine tourism, including both yachting and cruising, is an integral part of a new industry expansion plan. Her presentation in London was a repeat of the one she made a week or so earlier at the ICOMIA World Marinas Conference (WMC) held in Athens.
Developing high-quality infrastructure, be it hotels or marinas, is also integral to the plan. In terms of yachting and sea tourism, this involves developing a network of large and medium-sized marinas and in terms of cruise shipping, six new home port facilities. Greece is one of Europe's top three cruise destinations. The islands are also important tourist locations with many cruising opportunities for yachts.
At the World Marinas Conference, Kountoura spoke of the plans to reduce red tape and introduce new laws that will simplify the complex licensing procedures related to the development of new marinas in Greece. This, she indicated, would contribute towards increasing capacity to meet the rising demand for yacht cruising in the country.
In recent years, Greece has tried to privatise a number of state-owned marinas with limited success. The first marina in line to be privatised, possibly by the end of this year or early next, is the 1,200-berth Alimos Marina in Athens. Chios Marina is also a privatisation candidate.
The minister explained at WMC that the proposed network of new marinas would serve as hub ports. The plans for this network are currently being put together with help from EU experts. This also fits with the growth of sea tourism having been prioritised within the country's development strategy for the overall tourism industry and the aims to strengthen the sector.
The entire initiative is largely based around attracting new investment, both domestically and internationally, into Greece's marine recreational sector and contributing to the development of the planned marina network. It is not clear when the new sea tourism strategy will be introduced, although it is thought to be some time next year.