US Army Corps of Engineers data reveals near-record November water levels when they should be at their lowest point of the season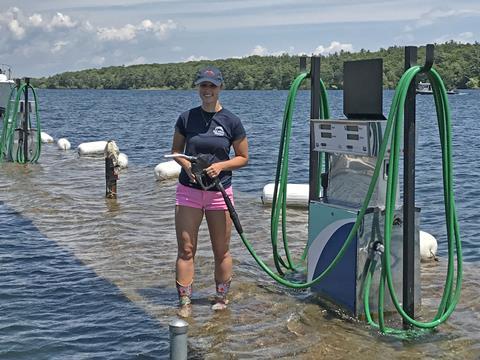 In the wake of record flooding this year that has caused untold billions of dollars in damage, municipalities, ports and marina operators across North America's Great Lakes region are bracing for further high waters in 2020 as lake levels remain well above typical late November averages.
New data from the US Army Corps of Engineers Detroit District (USACE-DD) confirm that Great Lakes water levels are approaching record-highs for November, at a point when they should be at their lowest point of the season.
The latest data – collected on November 22 – show water levels on Lakes Michigan and Huron as currently sitting 33 inches higher than the November long-term average, and a full 16 inches higher than they did on the same date in 2018.
Lake Erie currently sits 26 inches above the long-term average and four inches above November 2018 levels, while Lake Ontario was recorded as 19 inches above average and 16 inches above where it was at this point last year. Feeding the system, massive Lake Superior registers a full 12 inches above its long-term average and two inches higher than the previous year.
Forecasters now predict that Lakes Michigan and Huron – considered key indicators in the system – will enter calendar year 2020 at a level 11 inches higher than that of January 2019. With average winter temperatures and snowpack, that would put the entire region under a high risk for further flooding once the snow melts in spring – particularly if spring rains continue trending toward heavier than average volumes as they have for the previous three years.
But with the higher lake levels already, the USACE-DD cautions that even average spring precipitation could still lead to significant problems.
High water levels this year resulted in massive flooding throughout the Great Lakes region that persisted into late summer, flooding homes, municipal waterfronts and hundreds of marinas, including docks and infrastructure such as electrical, water and sewage treatment facilities. Damages from the flooding are still being assessed, but are expected to be measured well into the billions.
Bordered by the Canadian province of Ontario to the north and the US states of Minnesota, Wisconsin, Illinois, Indiana, Michigan, Ohio, Pennsylvania and New York to the south, the Great Lakes are the largest freshwater system on earth, containing 20% of the world's fresh surface water. In its 2018 Statistical Abstract the National Marine Manufacturers Association (NMMA) notes that the region ranks among the most important boating markets in North America, having registered the densest concentration of registered boats per household for the past 15 consecutive years.