The Camper & Nicholsons 38 Yawl was built in 1913 and dubbed 'The Brat of Dunkirk'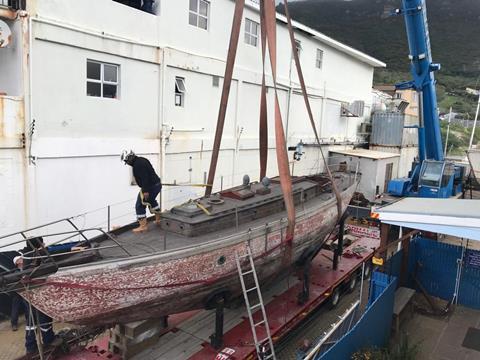 An historic 106-year-old British-built yacht has been 'rediscovered' in South Africa, prompting a unique community boatbuilding project, the South African Boatbuilding Export Council (SABBEX) reports in its latest newsletter.
The Camper & Nicholsons 38 Yawl, built in Portsmouth in 1913 and dubbed 'The Brat of Dunkirk', is believed to have taken part in the famous evacuation of Allied troops from Dunkirk during the Second World War. She relocated to South Africa in 1968 but subsequently fell into disrepair, only to be discovered earlier this year in Port Elizabeth by Cape Town sailing enthusiast and businessman Warren Fraser, owner of local rigging specialists Associated Rigging.
Fraser and fellow maritime industry stalwart Bruce Tedder have now bought the boat, which has been trucked to Cape Town for restoration, SABBEX reports. The restoration project will double as a local boatbuilding project involving aspiring boatbuilders in Hout Bay where The Brat is being accommodated outside the Hout Bay Yacht Club. "A client got hold of me and said, Warren, the boat is too much to handle – she deserves better," Fraser told SABBEX. Fraser said he couldn't believe his eyes: "I said, hang on, this is a barn find. You will never get another opportunity like this or find another one. Ever."
Tedder said the boat would hopefully generate interest within Hout Bay which currently suffers from high unemployment, particularly in the maritime sector. Said Tedder: "Warren and I are trying to do it as a collaborative effort with the industry and also importantly for Hout Bay because they have embraced it as a project. The plan is to interact with the skills that are already there [in Hout Bay] and use Brat as the first project. We want to save this thing and save the skills with a worthwhile project," Tedder said.