Plans for beach, boat and other shoreline outings over Labor Day weekend – typically viewed as the final hurrah of the summer season – have shifted to hurricane preparations for a dangerous storm system
On a long holiday weekend when boaters all across Florida and along the Atlantic coast of the United States would normally be making last-minute preparations for food, fun and friends on the water, owners are instead battening down the hatches on their boats, homes and businesses for the pending arrival of the first major hurricane of the 2019 season.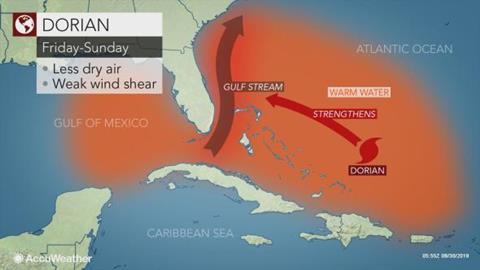 Hurricane Dorian is currently rated a Category 2 storm with sustained winds of 105 mph (miles per hour) but is likely to strengthen to a Category 4 (winds of at least 130mph) or possibly even Category 5 hurricane (157mph or more) before barging ashore in Florida or farther north along the US Atlantic coast, meaning it could be one of the worst storms to hit the region since Hurricane Andrew levelled the southern-most parts of the sunshine state (west of Miami) nearly thirty years ago.
The projected path is still highly uncertain and subject to big shifts due to subtle changes in a number other weather systems across the US and Bermuda – muddling weather prediction models. Nonetheless, Florida's governor is already preparing for the worst, declaring a 'state of emergency' across of the state's 67 counties as of Wednesday night (EST in the US). The state of Georgia (immediately north of Florida) has also declared a state of emergency for coastal communities.
While preservation of life and critical services is obviously the top priority, boats and marine infrastructure are often a major casualty of such storms, As IBI recently reported, some marinas in Florida have not yet fully recovered from Hurricane Matthew which struck in 2016. Hurricanes Irma and Harvey also inflicted heavy damage to charter fleets, personal boats and marine infrastructure in 2017.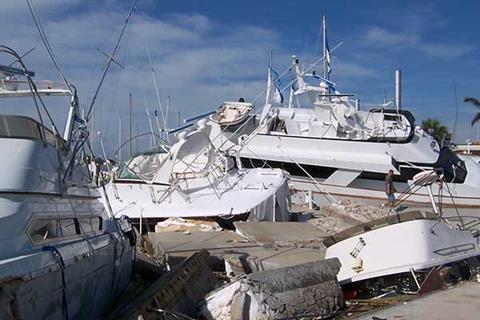 According to Boat US, a major American provider of boat insurance, more than 30 years of marine insurance claim files show that boats on land suffer relatively less damage than those in the water. "When the boat is left at a mooring, at anchor, or tied to a dock and something goes wrong, it's more likely to end up sinking or aground than if it had been ashore. That can be extremely costly. In addition to losing your boat, there could be expenses for cleaning up any spilled fuel and removing the wreckage that results."
Smaller, towable boats can be moved inland or undercover, but larger boats are hard to hide and secure from nature's forces, so damage and total losses in boats and marinas are often very high in huricanes of such strength.
East coast residents of Florida are expected to start feeling the effects of wind, waves and rains as of Saturday night in America, with the storm arriving at full force late Sunday night / early morning Monday.