Harsh climate and 'superyacht' appeal fuelling growth in niche sector
Sales of houseboats in Russia and the CIS region could see a significant boost, potentially doubling within the next 3-4 years, according to local boatbuilders and industry analysts. Though no official statistics exist, annual sales of houseboats in Russia are expected to hit 200 this year.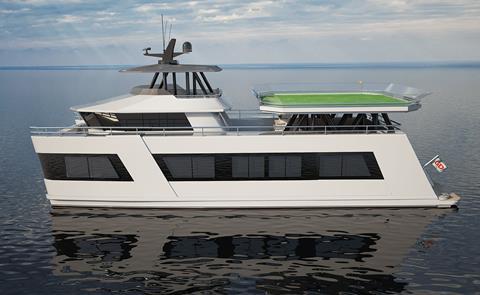 Domestic buyers, exposed to the trends of the mega rich but without the funds to support superyacht ownership, are waking up to the potential of houseboats that because of their construction methods (they come with options of GRP or steel hulls, one or two engines) can be less expensive than a similar sized superyacht – prices range from anywhere between US$500k and US$5m – and because of their potential length and catamaran-style hulls, offer commodious interiors along with wave stability and low fuel consumption.
Heavily insulated for winter use too, the ingredients add up to a vessel that is idealy suited to the harsh climatic conditions of Russia and its short navigation period.
As one might expect, the trend has seen an increase in the number of Russian yards turning to houseboat production. One of the industry leaders is the Baikal Yachts Group, which as well as yachts and superyachts, builds houseboats from 12m-35m in both river and sea class.
According to Baikal, one of the key advantages of Russian houseboats is the cat-style hulls that can be up to 1.5 times wider than equivalent hulls built in Europe.
Along with Baikal, fellow Russian houseboat builders such as Lodka Haus and Gorky Zelenodolsky Zavod are also reporting healthy sales.