Breakthroughs in industrial 3D printing technology are enabling boat manufacturers to overcome multiple production challenges with labour, material waste, and speed.
The boatbuilding industry experiences fluctuating challenges, from regulations to ageing ships and fleets. These challenges make it necessary to replenish the industry with new, innovative technologies and methods to evolve manufacturing techniques.
Until now, the most common method of production has been to piece together multiple mould parts from a master tool. This process is very time-consuming, labour-intensive, and costly. It can take several weeks just to build a master mould and poses challenges in terms of tailoring design.
Not to mention the waste generated from subtractive processes – whether related to epoxy boards, plywood moulds, or aluminum tooling. A typical shipyard sees about 15 to 20 per cent raw material wastage. Traditional processes also require a large storage capacity.
Breakthroughs in industrial 3D printing technology enable boat manufacturers to overcome many of these workflow and logistical challenges. Naval architect Gregory Marshall has commented "3D printing can disrupt almost every aspect of our industry. Whatever we can imagine, we can now manufacture." Analysts state that by 2030, 3D-printed yachts may become broadly accepted as the norm for manufacturing.
Creating boat parts and customisations with a 3D printer such as those from Massivit means unlimited geometric capabilities, large size, and hydrophobic materials for harsh sea conditions.
The Massivit 10000-G additive manufacturing brings digital transformation to the composite materials arena. It allows boatbuilders to digitally print industrial moulds and end parts either from a CAD file or 3D scan, thereby eliminating the need for a master.


Applications and Benefits of Large-Scale 3D Printing
3D printing allows boatbuilders to markedly reduce material waste associated with traditional manufacturing methods. Components can be produced using only what is needed to create the piece, therefore also reducing overall costs.
Damaged boat parts can easily be replaced on site and on demand without having to track down spare parts that are often in limited supply or non-customisable.

Massivit Breakthrough Technologies Shift the Paradigm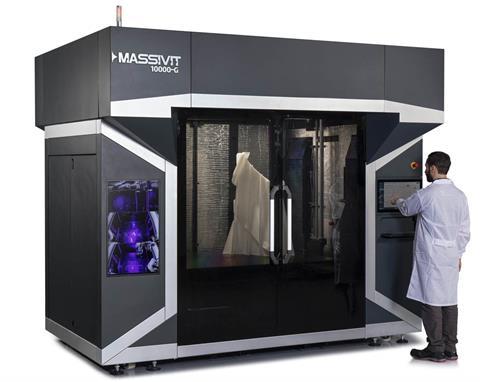 Using Massivit's industrial 3D printers, boatbuilders can rapidly create a range of customized maritime end-use parts such as stern extensions, dashboards, hollow radar masts, roofs, and interior fixtures including bathrooms, sinks, and furniture. More detailed case studies can be explored in this eBook: Large-Scale 3D Printing for Marine
Thanks to the size of Massivit 3D printers, a large single-piece can be created in one print. In addition, the printed parts are hollow, therefore they can serve as wiring conduits for electric devices such as radar antennas. These components are 100% hermetically sealed and printed using hydrophobic thermosets.
The Massivit 10000-G is designed to overcome the bottlenecks of mould production for composite components. It enables automated production of industrial-grade, custom moulds in 80% less time than with conventional methods.


A range of large tooling applications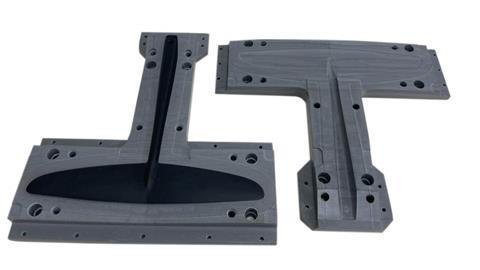 The 10000-G can print moulds, master tools, prototypes, jigs and fixtures and has been hailed by customers as a game changer for marine manufacturing. Complex designs can be realized via open or closed moulds including resin transfer moulding (RTM) and reaction injection moulding (RIM).
This award-winning system, applauded by the maritime and composites markets at the prestigious IBEX and CAMX shows, also enables high-speed custom manufacturing of end parts at 30 times the speed of other technologies. Components can be printed in a matter of hours, keeping ships, yachts, and boats out of repair bays and out to sea. Thanks to the exceptional size of Massivit's 3D printing systems, the reduced number of components required for the final build leads to an increase in error tolerance.
With company offices in Atlanta GA, Belgium, and Israel, Massivit has become recognized for its forward-thinking R&D innovations that manifest in invaluable, real-world applications for the evolving marine manufacturing market.


About Massivit
Massivit 3D Printing Technologies Ltd. (TASE: MSVT) is a leading provider of industrial 3D printing systems for the marine, automotive, railway and additional manufacturing markets. The company's solutions enable cost-effective production of large, custom parts, moulds, and prototypes at unprecedented speed.
Massivit's vision is to transform manufacturing of large parts from traditional processes to ultra-fast, digital fabrication using industrial-grade materials.
The company was founded in 2013. Its headquarters are based in Lod, Israel and the company provides its worldwide community across 40 countries with end-to-end services supported through an extensive dealer network.
Company contact: Pieter Machtelinckx
Pieter.Machtelinckx@massivit.com
+32 2 306 85 84 (Belgium)
https://www.massivit3d.com
External links
We are not responsible for the content of external sites