Less Space. More Control. The ProPilot-S combines engine throttle and bow thruster control for sail boaters
Glendinning Products LLC announces the release of a new joystick and throttle control designed for Sailboats. The ProPilot-S solves the problem of needing separate bow thruster and engine controls on board by combining all these functions in one simple, easy-to-use, top-mounted control head. The ProPilot-S was designed with the sailboater in mind. It combines throttle, shift, and thruster controls into one small package to minimize valuable space taken at the sailboat helm.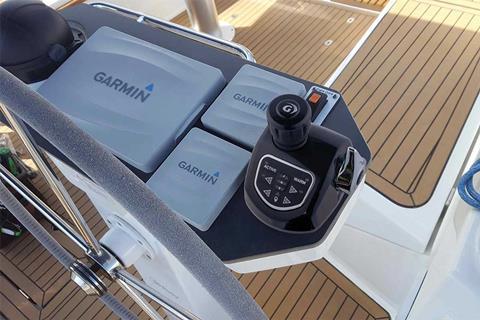 Joystick Controls – manoeuvre your boat easily using the intuitive joystick – simply move the joystick in any direction or rotate as required; the engine(s) and thruster(s) will work together to move the boat in the required direction.
Propulsion Controls – Move the lever forward or backwards to control your engine's shift and throttle functions.
Seamless Transition – The ProPilot-S automatically extends the thrusters when the joystick is initially moved. The ProPilot-S then automatically retracts the thrusters when the cruising lever control is moved forward or reverse.
The ProPilot-S is compatible with any type or brand of thruster and is also compatible with any engine or transmission – either mechanically or electronically throttled. It also allows for multi-station and multi-engine applications. In multi-engine applications, engines would automatically synchronise under use with a control lever and run independently under use with the joystick.
Visit Glendinning's website to learn more about the Pro-Pilot-S.

ProPilot-S controls are available for immediate supply in new or retrofit Glendinning control system applications. Please get in touch with your nearest Glendinning sales representative for more information.
External links
We are not responsible for the content of external sites