The patent-pending OceanLED OceanBridge is the perfect companion for any vessel's lighting. The innovative new system takes boat owners and captains deeper into customisable lighting options with universal control of all boat lights from an MFD, smartphone or tablet.
OceanLED set new industry standards for universal light control with the launch of the OceanBridge. The seamless system allows any user to control the entire OceanLED range of lights, as well as third-party lights from a single interface. Even boats installed with only third-party lights can benefit from the OceanBridge, thanks to its open-source connectivity. The result, is a comprehensive system integration solution, suitable for every vessel, from the smallest day boats or sport fishing boats, to the largest sailing yachts and superyachts. The OceanBridge is compatible with all MFD units, smartphones and tablets, and is available for just €481.25.
"The OceanBridge represents the culmination of over two years development. Every aspect has been designed with boat owners' and captains' needs in mind." – Daniele Todaro, Managing Director, OceanLED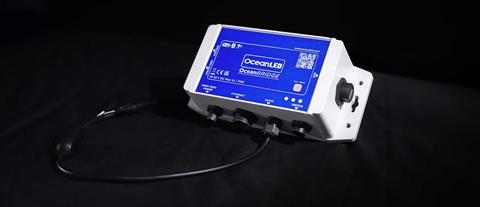 The OceanBridge is a key component of OceanLED's strategy to expand its product range with innovations that take the marine lighting experience to new heights. With the continued growth of the underwater lighting industry, the need for environmentally responsible, integrated, open-source solutions is growing. Leveraging its expertise in advanced electronics, OceanLED's first MFD integration solution incorporates actual insights from real boat owners throughout the development process. The result is a superb multizone lighting controller, that frees users from the confines of other brands' proprietary technology. A key component of the experience with the marine lighting that boat owners identified as inconvenient and limiting.
The ideal choice for anyone seeking to elevate their setup and experience next-level immersion when using their boat's lights, the OceanBridge boasts OceanLED's patent-pending light-to-movement technology which translates a vessel's movements to light colour, speed, brightness, and intensity.
The OceanBridge allows complete control of light colour, music sync, colour fade, colour transitions, brightness, and the ability to create up to 10 zones and dynamic scenes as standard. Boat owners and captains can tailor their lighting options down to the smallest details, allowing them to make changes based on the time of day, vessel use or even set timers.
Every aspect of OceanLEDs' powerful yet easy-to-use OceanBridge has been designed with boat owners' and captains' needs in mind. Its clean, all-in-one form is pleasing to the eye but has maintained its core purpose of longevity and robustness. The OceanBridge's ample connections selection makes it an easy addition to any existing system or new build. It even comes with a built-in USB port for easy updates, ensuring the longevity of each system.
With a variety of connectivity options including direct power line connectivity, NMEA2000 backbone connectivity, and ethernet connectivity, the versatile OceanBridge offers an easy way to connect to any vessel. Users can also opt to go wireless and connect to smartphones and tablets via Bluetooth to enjoy the system's flexible interface while listening to music streamed or saved on their devices.
External links
We are not responsible for the content of external sites