Click REGISTER to sign-up for your complimentary copy of IBI magazine, in print or digital format.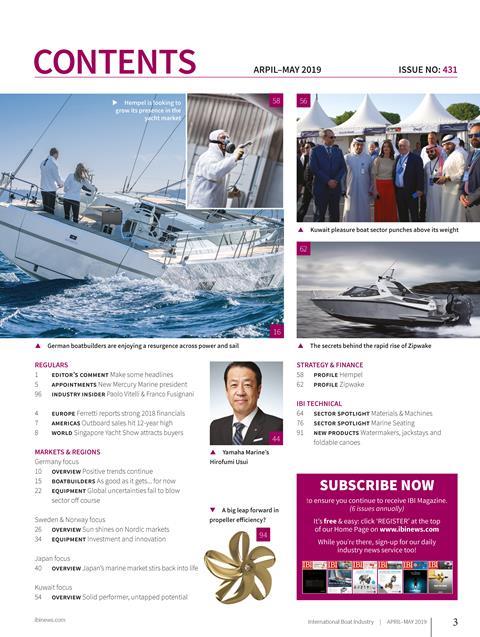 Editor's Comment
It's time to show what makes your business tick - Make a nomination and some headlines.
Want a quick-fire way of knowing what our industry's about? What makes it tick? Check out the list of Most Popular stories at any given time on IBInews.com. Trending as we went to press were Ferretti Group's financials, Princess's bullish forecasts for the year, a review of the Singapore show, the legal battle between the Federation des Industries Nautiques and Reed Exhibitions over the ownership and management of the Cannes Yachting Festival, breaking news of Jeanneau's new monocat concept, and a story about Yamaha's development of autonomous driving technologies.
Business and innovation are a common theme – and that's why in IBI magazine you'll find a healthy dose of both along with insight into the people and companies that make it all happen.
The Q&A with Paolo Vitelli and Benetti boss Franco Fusignani is a case in point. Read on p98 how Benetti's gigayacht plans pushed the group to the limit, forcing it to change tack and take a more dynamic approach.
It's such stories that inspired IBI to launch, with METSTRADE, the Boat Builder Awards in association with Raymarine, five years ago. Since then they've grown from strength to strength and we're confident, with support from our sponsors, that 2019 will be the best yet – it needs to be to do the industry justice.
In the five years since we started, the boating business has been turbocharged by innovation and is evolving into a more sophisticated animal, all of which has been reflected in the quality and breadth of nominations we receive year on year. We opened the nomination platform for the 2019 awards a couple of weeks ago and already entries are beginning to arrive.
I urge readers to go online at boatbuilderawards.com to put forward their own or another company or individual who they think deserves recognition. It's easy and free, but if you're feeling too modest to shout, then give us a nudge with the new 'tip' function on the site and we'll investigate further.
One thing the last five years has taught me is that there's plenty to shout about in our business… and that the Awards news will be up there trending in mid-November come theannouncement of the winners. It's time to show what makes your business tick. Make a nomination and some headlines.
Ed Slack | IBI Editor
Click here to download the latest copy of IBI; and REGISTER NOW to ensure you receive a complimentary print copy of every IBI issue – in the post, or via a digital file delivered direct to your inbox.