Click REGISTER to sign-up for your complimentary copy of IBI magazine, in print or digital format.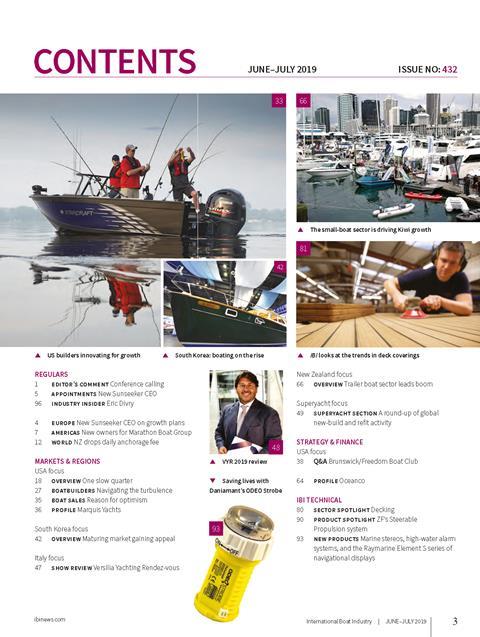 EDITOR'S COMMENT
Life is a marathon, not a race… and the industry is inching forward
The danger of committees is that they can sometimes get hung up on process – minute-taking and points of order are all well and necessary, but they need a sharp end – points of action to justify themselves. Thankfully, when it came to the annual ICOMIA/IFBSO Congress, it seems that the delegates were on the same page.
Reporting from the event, held in Split at the beginning of June, it was reassuring to see frank discussions between members who are at the coal face and know very well what the industry is and isn't capable of. Never far away from an agenda nowadays is the issue of End of Life Boats (ELBs) – the ever-pressing need to do something about the gathering detritus that comes from 50 years of building GRP boats.
Lots of head scratching and talk over the past decade appears to have made little impact – the issue was being highlighted at Congress back in 1997, and last year a decision was taken to postpone a regular ELB forum at METSTRADE because so few advances had been made.
But life is a marathon, not a race, and it appears the industry is inching forward after all. The forum is now back on for METSTRADE 2019 and speakers are lining up to share news of very real progress.
In the US, the Rhode Island Marine Trades Association is behind a pilot project tracking 20 tonnes of GRP from ELBs being co-processed through cement kilns to determine whether such methods offer a financially viable solution, while in France a disposal network of 23 centres is now being funded by eco-contribution from French marine companies, so that the last owner will not have to pay. In Italy, two pilot projects are underway – a UCINA-supported composite upcycling process, and another in Tuscany, combining ELB waste with caravans, railway carriages etc, to make an efficient disposal/recycling process. In Norway they have developed a method of breaking down redundant sections of GRP into various reusable fibres, and the Dutch University of Applied Sciences at Windesheim is upcycling GRP sections into a new panel material which replaces hardwood for various applications, including lining of canal banks. Japan is also thought to be experimenting with a GRP recycling plant.
Needless to say, End of Life Boats was just one challenge taxing delegates and it will be interesting to see the progress made on this year's other action points at the 2020 Congress in Zhuhai.
In a relatively small, fragmented, yet global industry such is ours, yards can be hard won at times, but the will and stamina of the industry to make a difference was there to see in Split.
Ed Slack | IBI Editor
If you are already registered on ibinews.com and qualified to receive digital version of IBI free of charge, CLICK HERE to view and download the current issue.