Click REGISTER to sign-up for your complimentary copy of IBI magazine, in print or digital format.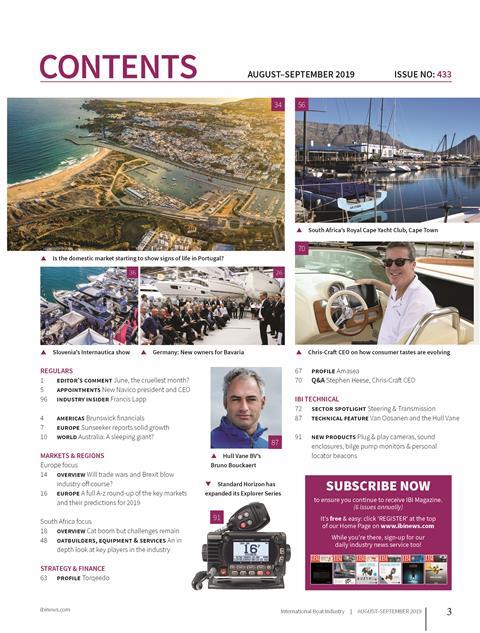 EDITOR'S COMMENT
Together they paint a picture of a more precarious life for those at the top of the boating business
TS Eliot proclaimed April the cruellest month. Had he been working in the marine industry today he might have had a rethink and made it June, given the managerial blood-letting that took place earlier this summer. The biggest bombshell was the news on June 16 of Hervé Gastinel's departure as CEO of Groupe Beneteau to be replaced by chairman Jérôme de Metz. From an outsider's perspective, the French builder's recent robust financials and dynamic new launch programme should have found its CEO secure in the role he had held since 2015, but then the manner in which his predecessor Bruno Cathelinais was ousted might have given him pause for thought.
A week earlier, across the Channel, Sunseeker generated its own Richter scale moment when it announced the resignation of CEO Christian Marti, barely 12 months into his role, and perhaps as significantly, the appointment of Italian boatbuilding veteran Andrea Frabretti as his replacement. Not to be outdone, rivals Princess announced within hours that its longstanding MD, Chris Gates, was stepping down after more than 30 years at the helm. He remains at the brand as special advisor to executive chairman Antony Sheriff. Before the month was out it was announced that Gregory Yeakle was calling time on his role as CEO of Emirates-based shipyard Gulf Craft, barely 12 months in.
Is there a lesson to be learned? It's impossible to draw a direct line between any of the individual cases above, but together they paint a picture of life at the top of the boating business becoming a little more precarious. It's territory we find ourselves in no doubt as a result of the industry shifting away from the family/founder-run business model to the disciplines of more corporate, shareholder-driven enterprises. Changes of the guard are inevitable and in the right circumstances are to be welcomed, but if the revolving door is being pushed a little bit harder now we'd better make sure we have the very best talent in the wings – and as importantly, the wherewithal to hold on to it.
Ed Slack | IBI Editor
If you are already registered on ibinews.com and qualified to receive digital version of IBI free of charge, click here to view and download the current issue.