Click REGISTER to sign-up for your complimentary copy of IBI magazine, in print or digital format.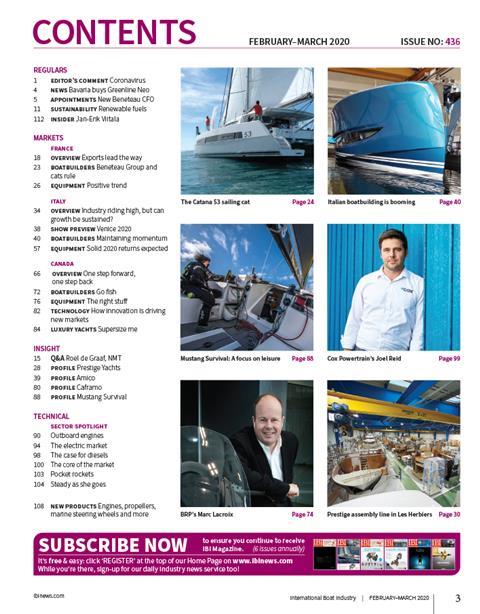 EDITOR'S COMMENT

>> Coronaviris: the greatest impact will undoubtedly be on the supply chain
Could postponement of the Hong Kong, Korea and Singapore boat shows and a question mark hanging over the scheduling of Japan, Taiwan and Shanghai events as IBI went to press, be just the tip of the iceberg when it comes to the potential impact the novel coronavirus outbreak could have on our industry? So far it appears that Stockdorf, Germany-based marine and automotive equipment manufacturer Webasto is the only Western marine firm to be directly impacted by the virus – seven of its employees (five Germans and two Chinese nationals) – had tested positive for the virus resulting in its workforce being sent home for a number of weeks, though workers have now returned. Individual cases aside, the greatest impact will undoubtedly be on the supply chain following the shutdown of manufacturing in the virus's epicentre, Wuhan and a number of key industrial hubs in China.
Though the leisure marine sector's exposure to China supply chains remains relatively small compared to tech, automotive and other major industries, a failure to contain the outbreak will inevitably hit our industry's ranks of manufacturers and assemblers reliant on Chinese made components. For now, the scale of that potential impact is hard to fathom – one would hope short term disruption is modest, mitigated by current inventory surpluses – though in recent years many suppliers have been working hard to keep stock levels to a minimum, a strategy that may prove costly in the coming weeks.
"For now the industry appears sanguine, noting that we've been here before with SARS.
Let's hope they're right."
The truth is our industry is insulated somewhat from the happenings in China, given that the margins we work with allow suppliers and OEMs a reasonable level of flexibility in sourcing product elsewhere. In reality, the auto and RV sectors have little choice but to take components from China given their wafer-thin margins. If coronavirus means OEMs and suppliers soaking up a premium on specific European hardware for the short term, then so be it. If a shortage of supply ensues and demand remains stable, component prices will inevitably rise, stress testing supply contracts and possibly triggering some force majeure clauses.
For now, those in the industry IBI has spoken to appear sanguine, noting that we've been here before with SARS. Let's hope they're right, and that suppliers in China, many of which have extended their annual New Year shutdowns into a third week, begin to get back on stream before the effect of their closures becomes critical.
Ed Slack | IBI Editor
If you are already registered on ibinews.com and qualified to receive a digital version of IBI free of charge, CLICK HERE to view and download the current issue.