If you are registered to receive the digital edition of the magazine,
click here to view the current issue now.
If you are not subscribed already, REGISTER NOW to sign-up for your complimentary copy of IBI magazine, in print or digital format.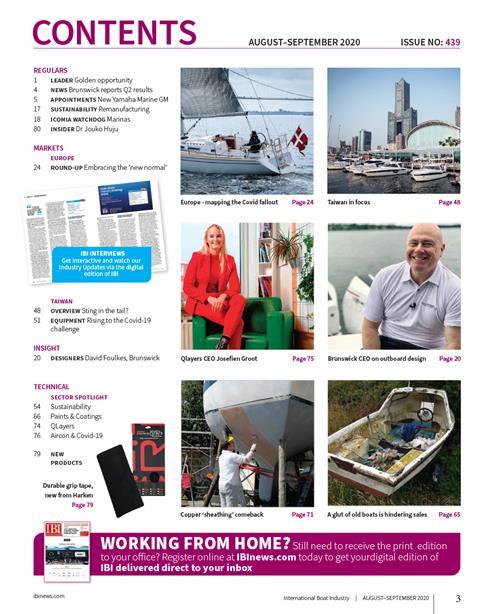 Editor's Comment

>> The pandemic represents a golden opportunity to reset for the long-term

RESEARCHING AND WRITING our annual review of the current state of the European leisure marine market has been frustrating, depressing, heartening and surprising, pretty much in equal measure.
Needless to say, had it been written in February, the general industry outlook would have been a much more positive affair with the winter shows confirming that Europe's industry was set on a safe growth trajectory for the rest of 2020 at the very least.
Our industry, as all others, is still trying to make sense of the new normal, but a very bleak picture back in April today feels much more nuanced, and as our report highlights, the losses and gains being experienced are playing out unevenly.
Service sectors and retailers, after a brief hiatus, are booming as the 'staycation' phenomenon takes hold – dealers of smaller boats and brokerage houses are struggling to keep up inventory as demand outstrips supply in somecountries. Europe's charter industry,reeling from blanket cancellations inthe spring, is now largely booked outfor the rest of the summer and autumn;it will remain an uphill challenge to make up for what is effectively a loss of a third of the season and consolidation in the sector is inevitable, but the common refrain talking to industry CEOs and marine associations is that the situation is far from the worst case scenario that many had factored into their business planning back in March.
How boatbuilders will fare in the short term as they absorb weeks, and in some cases months, of lost production is a sobering thought, but the desire to socially distance coupled with the cultural reboot when it comes to how we spend our leisure time, could be a coming tide to lift struggling players off the rocks. What has been surprising is the underlying sense across all sectors that the pandemic represents a golden opportunity for the industry to reset for the longer term.
A common thread in our Europe reviews in recent years was the need to bring new blood into boating – that industry 'growth' was a mirage, conjured from the sale of less, bigger, better equipped,more expensive boats, at the expense of family boaters and new generations who had different aspirations from baby boomers. It's taken a pandemic – and the fallout will be significant – but boating is back on the collective radar as an attractive and relatively secure pastime. If industry grasps the opportunity, we could begin to reap the benefits, and sooner than we dare to think.
Ed Slack | IBI Editor
If you are already registered on ibinews.com and qualified to receive a digital version of IBI free of charge, CLICK HERE to view the current issue.