If you are registered to receive the digital edition of the magazine,
click here to view the current issue now.
If you are not subscribed already, REGISTER NOW to sign-up for your complimentary copy of IBI magazine, in print or digital format.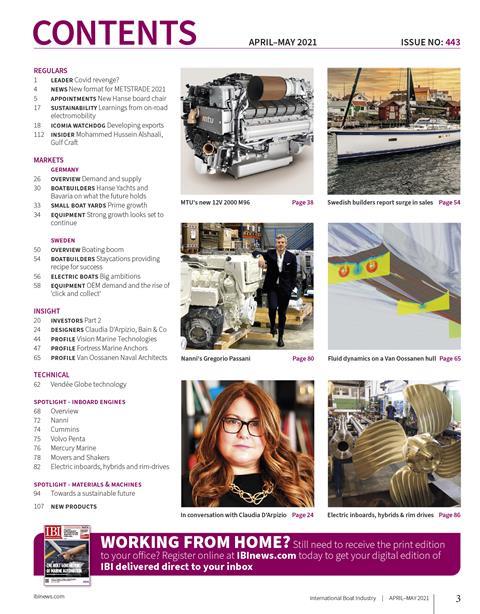 Editor's Comment
>> Investors apply here

Looking at the spree of M&A activity over the recent weeks and months it's clear that the leisure marine industry is entering a new phase as market confidence soars. Both the levels of renewed activity, and the areas of the business in which they are taking place are of particular interest.
OneWater and MarineMax are on the expansion trail and have been driving consolidation in the US dealer market for months. In late December, former Ferretti Group investor Permira acquired Boats Group with its online brokerage platforms including boats.com, Yacht World and Boat Trader, for a reported US$850m – deals to name but a few that highlight just how hot the market is right now as consumers get on board with boating.
Activity has been rife on the equipment retail side too. Investment funds backed the takeover of one of Europe's largest equipment retailers, USHIP, in February and hundreds of US fishing and boating outlets were consolidated when Sportsman's Warehouse joined Great American Outdoors Group, parent company of Bass Pro Shops, Cabela's and White River Marine Group.
"One commentator described the current spate of activity as 'Covid revenge'"
Arguably the most interesting deal on the aftermarket accessories side involves the announcement as we went to press that American-French private equity firm L Catterton had acquired US equipment retail chain West Marine. That L Catterton's marine portfolio includes Princess Yachts and Dutch superyacht builder Royal Van Lent is intriguing, but one imagines that is more a by-product of Catterton's partnering with LVMH and Groupe Arnault in 2016 to form L Catterton than testimony to any wider strategy at play.
What is certain is that it highlights the confidence investors are finding right now in the leisure marine sector. Boat clubs and other new boat ownership models are also seeing a surge in activity. Brunswick Corporation's Freedom Boat Club, for instance, has accelerated its growth plans – it announced its first location outside the US (in the UK) in April, with a counter-attack launched by fledgling peer-to-peer boat rental pioneer Borrow A Boat a week later when it announced it was entering the US market as part of its 2021 global expansion plan.
There's been activity on the manufacturing side too – not least the recent sale by Group Beneteau of its CNB brand to Solaris – a deal that seems to make sense, freeing up manufacturing footprint at the French group's Monte Carlo facility, while giving the Italian builder access to the low volume premium cruiser market to challenge the likes of Oyster, Swan and Contest.
One commentator described the current spate of activity as 'Covid revenge' – with investor excitement as the pandemic recedes, becoming infectious. The emerging patterns will not be lost on industry veterans and anyone who's read IBI's recent 'Investor Series' (see p20 for Part II in this issue).
Needless to say, it will be interesting to see how this burst of enthusiasm plays out.

Ed Slack | IBI Editor
If you are already registered on ibinews.com and qualified to receive a digital version of IBI free of charge, CLICK HERE to view the current issue.