If you are registered for the interactive edition of IBI magazine,
click here to view the current issue now.
If you are not subscribed already, REGISTER NOW to sign-up for your complimentary copy of IBI magazine, in print or digital format.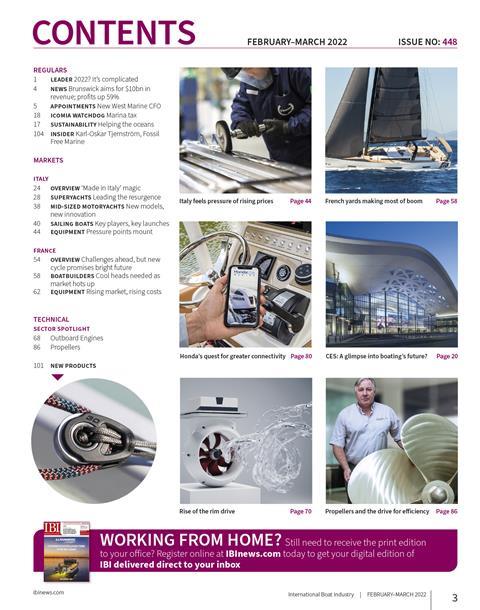 Editor's Comment

>> Fully resourced companies will realise signifcant potential… smaller players could struggle
THINGS ARE ALREADY getting complicated and we're only a month into 2022. The surge in boating interest seems to show little sign of abating with builders battling to supply demand in the face of soaring raw material costs and supply chain disruption that has hobbled production and squeezed margins.
Inventory levels have been ramped up – most companies are sitting on healthy cash balances for now, allowing them to stockpile But one must wonder whether it's at the cost of critical R&D investment, while resources are drained as companies are forced to problem solve and find bespoke solutions to push product through their assembly lines.
Lead times are approaching unsustainable levels; stock levels of new and used boats have been depleted – prices in the second-hand market have rocketed. Boat shows are feeling the impact; as yards – already struggling to meet deposited orders and no product to physically display – channel their marketing spend back into production and digital alternatives. With no boats to sell, and no boats to buy, there's a danger of gridlock.
"There have been 20-plus M&A deals already, as cash rich companies, emboldened by a long growth runway, make strategy plays."
So what of the months ahead? It's a question of when, not if, that supply chains start smoothing themselves out (Q3 2022?), and inflationary pressures on pricing, one expects, will correct at some point as the world returns to a greater semblance of normality post Covid. Just when that will be is anyone's guess – most, like me, assumed 2021 would be the year we moved on from the pandemic.
On the plus side, it's Covid that has turbocharged our industry – a gradual, benign emergence from its shadow will no doubt help consolidate the gains we've enjoyed, increasing the chances of a soft landing.
One thing is certain, we can expect consolidation to continue – since the start of the year there have been 20-plus M&A deals and counting – as cash rich companies, emboldened by a long growth runway, make strategy plays and look to vertically integrate more of their operations.
There's safety in size and numbers too, especially when it comes to muscling your way up the supply chain. Companies are being forced to battle on numerous fronts. Those fully resourced (attracting the right talent is another battle for 2022!) will ultimately realise significant potential despite current market frustrations; smaller players could struggle, victims of their own success.
As I said, it's going to be a complicated year…
Ed Slack | IBI Editor
Click below to read the issue online and don't miss the videos embedded throughout the magazine,
If you are already registered on ibinews.com and qualified to receive a digital version of IBI free of charge, CLICK HERE to view the current issue.