If you are registered for the interactive edition of IBI magazine,
click here to view the current issue now.
If you are not subscribed already, REGISTER NOW to sign-up for your complimentary copy of IBI magazine, in print or digital format.

Editor's Comment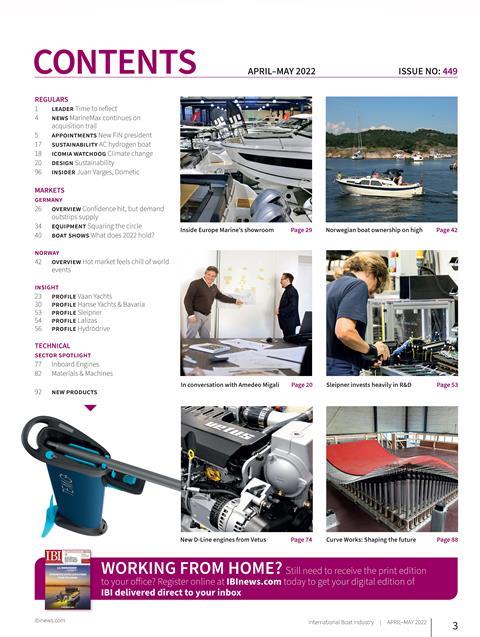 >> The superyacht ecosystem is vital to vast numbers of livelihoods… a fact that rarely makes the headlines
SUPPLY CHAIN WOES, raw material and logistics prices hikes, recruitment challenges… issues that had been driving the industry narrative have been thrown into perspective as news from Ukraine gets darker by the day. The impact of the conflict on our industry is a question for another day – all we can hope is that the bitter fighting concludes as quickly as possible and people impacted can start to rebuild their lives.
Once again, the superyacht sector finds itself unjustly in the spotlight – garnering the wrong types of headlines as floating assets are picked over in the media.The industry is a major employer, supports a legion of artisans, engineers, designers and smaller equipment businesses. Captains, crew, charter businesses, marinas, refit and repair – the superyacht ecosystem is vital to a vast number of livelihoods around the world, a fact that rarely makes headlines.
"The industry's story is overwhelmingly positive, something it would do well to reflect on in such times."
Other issues testing the industry concern inflation and fuel prices but thus far confidence among builders and retailers remains steadfast with strong order books and continued demand. Even the stock market seems to have bestowed a vote of support on the sector with the Ferretti Group becoming the latest firm to conclude a successful IPO.The industry's story is overwhelmingly positive, something it would do well to reflect on in such times.

In the spirit of positivity, IBI is once again looking forward to hosting its annual Boat Builder Awards for Business Achievement, along with our long-term partners, METSTRADE. After two years of Covid disruption, it's exciting to once again be planning a major in-person event at the Awards' traditional home – the spectacular National Maritime Museum in Amsterdam on the opening night of the world's largest marine equipment trade show. Plans are already afoot to make it the most memorable Awards to date. Details will follow through IBI and METSTRADE channels, but clear a space in the diary for the evening of Tuesday, November 15th. It feels more important than ever to recognise the best of our industry and its people.
Ed Slack | IBI Editor
Click below to read the issue online and don't miss the videos embedded throughout the magazine,
If you are already registered on ibinews.com and qualified to receive a digital version of IBI free of charge, CLICK HERE to view the current issue.