If you are registered for the interactive edition of IBI magazine,
click here to view the current issue now.
If you are not subscribed already, REGISTER NOW to sign-up for your complimentary copy of IBI magazine, in print or digital format.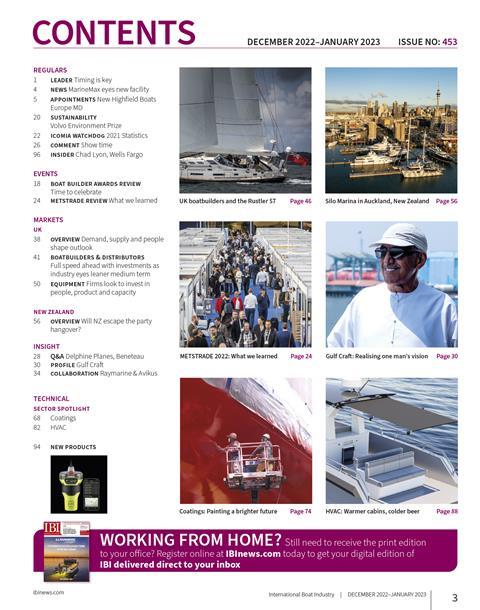 Editor's Comment>> Timing is key
2022 WILL GO DOWN as a good year for our industry, but one that could have been stellar had supply chain issues not constrained operations pretty much across the entire industry.
With those supply issues beginning to ease and full order books, we can expect a decent 2023 despite high inflation and energy prices and a bleak macroeconomic picture – all of which could make 2024 much more of a challenge. Most exposed will be those operating in the smaller, sub-40ft boat segment, as households tighten their belts and defer big-ticket spending. We could also see new-boat sales pegged back further as the stock of used boats increases, forcing down prices.
The key will be timing and whether we can carry through enough momentum to bridge the troughs before inflation turns southward and interest rates return to more palatable levels. Most analysts expect that to be toward the back end of 2023 in the US, and into 2024 in Europe.
Against this backdrop we'll see new trends emerging as the industry braces for a new normal. Expect to see manufacturers rationalising their product ranges to improve production efficiencies and increase profitability. Boat builders will look to shorten supply lines, leading to more partnering and acquisitions to secure supply.
The electric revolution will continue to gather pace, as was evidenced at METSTRADE in November. Inflation, Ukraine, supply-chain, recession… though never too far from the discussion, failed to dominate the agenda. The topic of Sustainability – and importantly the opportunities that the journey to carbon neutral mobility present – trumped them all. 2023 will see builders doubling down on their green ambitions. Investing in people will be key too as firms develop in-house trainee and apprenticeship schemes to overcome skills shortages.
"2023 will be the year of the disrupter as more start-ups enter the marine space, lured by promised of consumers hungry for eco-focused product."
It will be a year for technology – the integration of advanced technology in marine equipment is becoming more obvious than ever, with digital technology, sophisticated networking and telematics capabilities, and wireless everything. Making boating easier and safer will be key equipment sector drivers.
2023 will also be the year of the disrupter as more start-ups enter the marine space, lured by the promise of consumers hungry for eco-focused, innovative intuitive product.
There will also need to be another push to increase our industry's diversity. Expect the issue to be front and centre in 2023. Despite the headwinds, our industry is better placed than most to take advantage of the opportunities new technology and an increasingly eco-conscious consumer present.
We wish all our readers a stress-free, prosperous new year!
… And for your advance planning, see the just-released 2023 IBI International Boat Show Calendar, published with this issue.

Ed Slack | IBI Editor
Click below to read the issue online and don't miss the videos embedded throughout the magazine.
If you are already registered on ibinews.com and qualified to receive a digital version of IBI free of charge, CLICK HERE to view the current issue.