This month's issue of IBI is one of our biggest to date, packed full of content in the run up to METSTRADE and our Boat Builder Awards for Business Achievement held in association with Raymarine.
INSIDE THIS ISSUE of IBI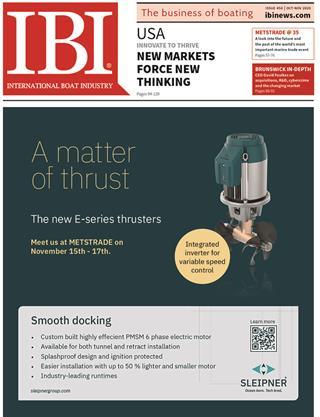 Insight:
Polaris | Sea-Doo | David Fuolkes, Brunswick CEO |
Market Focus:
In-depth reports on Netherlands, USA & Spain
Sector Focus:
Batteries & Chargers
Regulars:
Editor's Comment | Appointments | World News | Sustainability
Issue Highlights
We take a glimpse into the future and a look into the past and with a full preview of METSTRADE and the new technologies that will be on display; and the intriguing history behind the event which this year celebrates its 35th anniversary.
Brunswick's CEO, David Foulkes, shares candid thoughts about vertical and horizontal integration, Navico potential, and the realities of cybersecurity in 2023.
We get up close with Polaris to learn about its global market expansion plans; learn how Sea-Doo is reinventing the pontoon boat concept; and how one Dutch builder is realising the promise of 3D printed boats.
With the world moving steadily towards electrified transport, we investigate the latest in battery technology innovation, and profile an Australian start-up's plan to harness robotics to improve sustainability.
And of course, we have our regular market updates with a full lowdown on business levels and prospects for 2024 in the US, Netherlands and Spain.
KEEP UP-TO-DATE
Stay informed on the latest developments in the global boating industry with our incisive and in-depth coverage. We're your one-stop resource providing in-depth analysis on the topics that matter to you.
Find our archive of previous issues here
If you are not already subscribed to IBI Magazine,
get your complimentary copy – in print or digital format –
by completing your user details at this link
(Note: You must be Registered and Signed-in to your account first.)