The latest issue of IBI lifts the lid on the inboard engine tech; why playing to their strengths is helping the markets in Germany and Turkey adapt to a new normal, and we get the inside business track from BRP, X Shore, Quick, Besenzoni and more…
INSIDE THIS ISSUE of IBI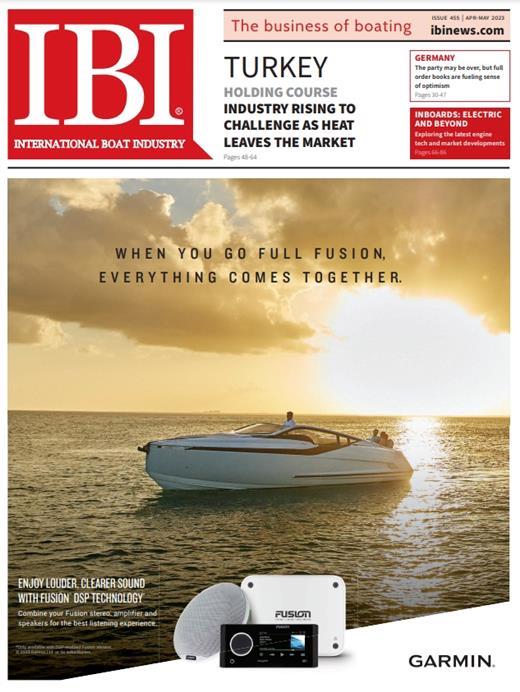 Insight:
Karim Donnez, group president, marine, BRP | Why your business needs the 4'Bs | X Shore CEO Jenny Keisu |Chiara Marzucco of Quick SpA
Market Focus:
In-depth reports on Germany & Turkey
Sector Focus:
Inboard Engines | Technology - ABA Yatch Sri
Regulars:
Editor's Comment | Appointments | World News | Sustainability
Issue Highlights
With a sharpened focus on sustainability and the adoption of alternate fuels, this issue investigates how inboard internal combustion engine builders are positioning for the future and the shape of the competition when it comes to electric inboard alternatives.
Propulsion systems are just one piece of the puzzle when it comes to reducing our carbon footprint; X shore CEO Jenny Keisu gives the inside track on the Swedish builder's mission to true sustainability, while BRP's marine group president Karim Donnez reveals the manufacturers plans for its new Rotax engine and adapting to the needs of a new consumer.
Germany and Turkey come under the spotlight; we investigate how both markets are acclimatising to the new normal, and why there are lots of reasons to be optimistic despite challenges ahead. In the mix we also have Besenzoni's CEO discussing the importance of product design; Quick lifts the lid on its growth strategy and Paul Strzlecki reveals his four 'B's' to business success.
Find our archive of previous issues here
If you are not already subscribed to IBI Magazine,
get your complimentary copy – in print or digital format –
by completing your user details at this link
(Note: You must be Registered and Signed-in to your account first.)