This issue of IBI looks at the major boating markets across Europe with the latest economic indicators and industry commentary discussing the prospect for consumer demand in the context of increasing macro-economic headwinds. We also provide a new update on the Canadian market including the expected impact of the new luxury tax on boats.
Insights in the current issue come from Premare's Barbara Americo highlighting the drive for sustainability and why the collaborative approach is not only rewarding, but vital. Outgoing Navico CEO Knut Frostad discusses where marine electronics are heading, Paul Strzeleckli comments on the culture of success, and U-Boat Worx's discusses its underwater ambitions in recreational submarines. A snapshot of Milan Design Week reveals the latest interior design trends of interest to builders.`
Also on tap in this issue are the latest innovations in remote Monitoring and Security technology, as well as the fast moving developments in Steering and Thrusters - and our regular informative reference listing of the Movers & Shakers in both sectors; plus our regular features: World News, Appointments, Sustainability and New Products.
Click below for more details…
INSIDE THIS ISSUE of IBI >>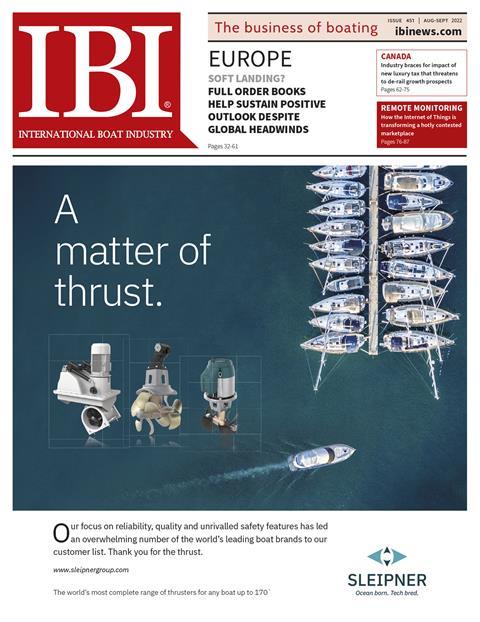 Regulars:
Editor's Comment | Appointments | World News | Sustainability
Market Focus:
European Overview | Canada
Insight:
Premare's Barbara Amerio about collaborating towards sustainability | U-Boat Work underwater ambitions | Knut Frostad on the future of marine electronics | Paul Strzelecki on the culture of success | Milan Design Week
Sector Focus:
Remote Monitoring & Security | Steering & Thrusters
Digital Subscribers >> Click to view the current issue
And don't miss the just-released floorplan for METSTRADE 2022, published with this issue of IBI.
Find our archive of previous issues here
If you are not already subscribed to IBI Magazine, get your complimentary copy – in print or digital format – by completing your user details at this link.
(Note: You must be Registered and Signed-in to your account first.)