The latest issue of IBI investigates developments in the US market; how the Chinese sector is back on track post Covid; and why the superyacht refit sector is shifting gear
INSIDE THIS ISSUE of IBI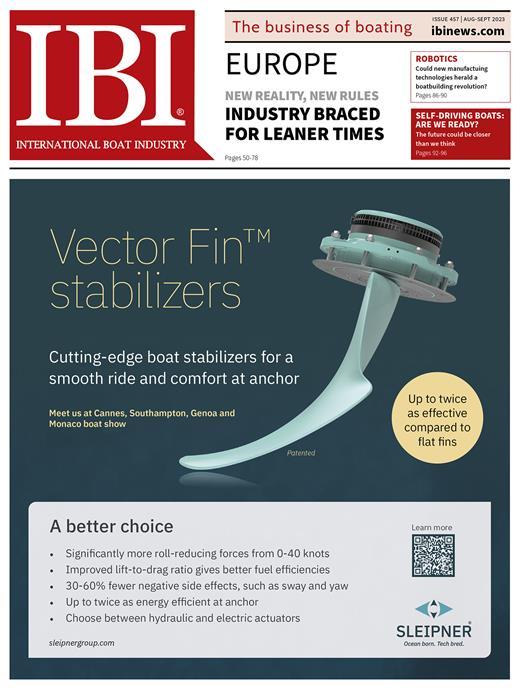 Insight:
Aquila | Lumishore | Patrick Industries | Riviera | William Jet Tenders
Market Focus:
In-depth reports on Europe & Lithuania
Sector Focus:
Autonomous Boating | Robotics
Regulars:
Editor's Comment | Appointments | World News | Sustainability
Issue Highlights
The global economic slowdown is beginning to bite, but our annual review of the key European markets reveals signs of optimism; in this issue we gauge the outlook in 19 countries and flag the untapped potential of Lithuania in an in-depth special report.
Adapting to survive and prosper is a key theme for August/September as we go behind the scenes at Aquila in China to discover the secrets to its meteoric rise and chart the route back to success for iconic Australian brand Riviera. We talk to Patrick Industries to discover why collaboration with key OEMs is the key to long-term value creation; hear how the pandemic helped revolutionise the business at UK lighting specialists Lumishore; and learn from Garmin's Dave Dunn about the boom in its recreational fishing business.
IBI heads to rural Oxfordshire to see the impact major investments and a five-year plan to embrace sustainable manufacturing is having at Williams Jet Tenders and we provide a glimpse into the future with in-depth features on how robotics is transforming manufacturing processes, and why autonomous navigation has the potential to significantly disrupt our industry – not in the distant future, but perhaps within months.
KEEP UP-TO-DATE
Stay informed on the latest developments in the global boating industry with our incisive and in-depth coverage. We're your one-stop resource providing in-depth analysis on the topics that matter to you.
Find our archive of previous issues here
If you are not already subscribed to IBI Magazine,
get your complimentary copy – in print or digital format –
by completing your user details at this link
(Note: You must be Registered and Signed-in to your account first.)