Don't miss IBI's look at how the UK and Australian boating industries are coping with supply and logistics challenges, the direction of power generation on board boats as well as docks, a recap of METSTRADE 2021 and this year's Boat Builder Award winners, and more…
In the Dec | Jan issue, IBI reviews the balancing act between full order books and supply chain constraints in the UK boating industry, and how builders and exporters are managing in the booming Australian market.
In addition, we speak with Raymarine general manager Gregoire Outters, AzkoNobel's Matthew Anzardo about the changing world of Yacht Coatings, and Andrew Doole of boat show producer Inofrma Markets about the upcoming Miami Boat Show and the shifting show scene.
Other insights come for a close-up look at the new technologies inspired by Formula-1 production processes which Oyster Yachts is adopting.
And with METSTRADE 2021 behind us, there is plenty more to talk about – including this year's winners of the Boat Builder Awards and the exciting innovations in boat builders are undertaking to drive the industry forward, as well as the latest trends in Power Generation, Marine Lighting and Shore Power on the rapid changes in Shore Power and Transformers.
INSIDE THIS ISSUE of IBI >>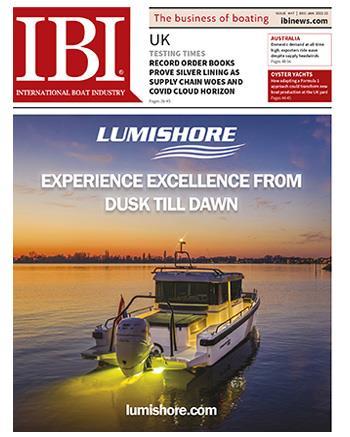 Regulars:
Editor's Comment | Appointments | World News | Sustainability
Market Focus:
UK Boatbuilders & Equipment | Australia
Insight:
Raymarine's Gregoire Outters | New technologies at Oyster Yachts | AkzoNobel's Matthew Anzardo on the latests in Yacht Coatings | Andrew Doole of show organiser Informa Markets
Sector Focus:
Power generators | Marine lighting | Shore power & Transformers
Digital Subscribers >> Click to view the current issue
If you are not already subscribed to IBI Magazine, get your complimentary copy – in print or digital format – by completing your user details at this link.
(Note: You must be Registered and Signed-in to your account first.)