Coming off two sizzling showcases of new industry technology and products at CES and boot 2023, the latest issue of IBI is packed with insights on outboard engine developments, the flurry of new tech start-ups, and advances in sustainability. This issue delivers our annual must-read reports on the French and Italian boating markets; and you won't want to miss our CEO interviews from Bavaria, Volvo Penta and the America's Cup…
INSIDE THIS ISSUE of IBI >>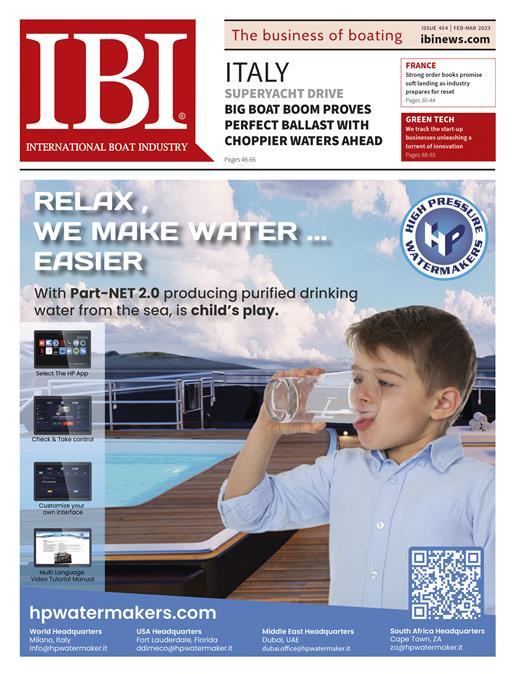 Insight:
Helene Mellquist on Volvo Penta's electrification ambitions | Bavaria CEO Marc Diening on the boatbuilder's future | Paul Strzelecki in conversation with America's Cup leader Grant Dalton
Market Focus:
In-depth reports on France & Italy
Sector Focus:
Outboard Engines | Green Technology - Tech Start-ups & Sustainable Manufacturing
Regulars:
Editor's Comment | Appointments | World News | Sustainability
>> Click to view the current issue
Issue Highlights
IBI covered dozens of exciting stories coming from marine industry companies taking part in the Consumer Electronics Show (CES) and boot Dusseldorf shows in January with the key takeaways from both encapsulated in the current issue of the magazine. All of which ties in perfectly with our Sector Spotlights in this issue – looking at the latest developments in ICE and Electric Outboard Engines, a deep dive on Green Technology and the growing crop of new Tech Startups helping to drive the industry forward, along with the steady transition to Sustainable Manufacturing.
France and Italy take centre stage in the current issue, with an overview on the state of the industry and key players in these two powerhouse boating markets. And more industry insights come from Volvo Penta CEO Helen Mellquist, Bavaria CEO Marc Diening and America's Cup veteran Grant Dalton, heading up Emirates Team New Zealand as CEO.
Find our archive of previous issues here
If you are not already subscribed to IBI Magazine, get your complimentary copy – in print or digital format – by completing your user details at this link.
(Note: You must be Registered and Signed-in to your account first.)
Downloads
Click link to download and view any attached files
Other | PDF, Size 1.05 mb