The latest issue of IBI investigates developments in the US market; how the Chinese sector is back on track post Covid; and why the superyacht refit sector is shifting gear
INSIDE THIS ISSUE of IBI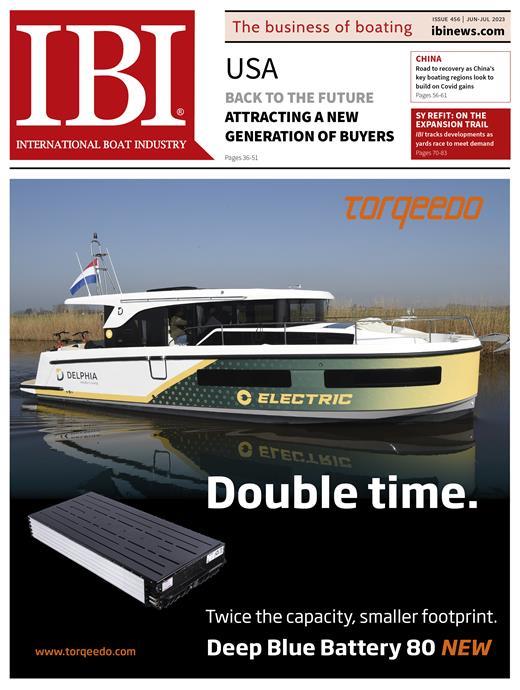 Insight:
Lippert | Freedom Boat Club | Cockwells | Webasto
Market Focus:
In-depth reports on USA, Ireland & China
Sector Focus:
Superyacht refit & repair | Superyacht software | Electric outboards - China
Regulars:
Editor's Comment | Appointments | World News | Sustainability
Issue Highlights
With economic headwinds increasing, we investigate how the US market is adapting to appeal to a wider consumer base and why affordability will be key; plus we look at China's market post Covid and how its electric outboard sector is hitting full throttle.
This month it's all about supply and demand – with consumers under pressure, we look at how builders in the US are refocusing on entry-level product to maintain an affordable path to entry, while at the other end of the spectrum, we track how superyacht refit and repair operators are scrambling to add capacity to meet surging demand.
As well as our China market lowdown, we investigate Ireland and uncover the reasons why this Celtic Tiger may yet roar again.
We review the latest developments in superyacht software radically transforming the boatbuilding process, while traditionalists will take heart in our profile of Cockwells, a builder with a very 21st century approach to the artisanal.
This issue also shines a light on recent developments at Lippert, Freedom Boat Club, Whale… and more.
Find our archive of previous issues here
If you are not already subscribed to IBI Magazine,
get your complimentary copy – in print or digital format –
by completing your user details at this link
(Note: You must be Registered and Signed-in to your account first.)