Don't miss IBI's run-up to METSTRADE 2021 with a look at new product trends in the US equipment market, the direction of Sustainability and On-board Electronics in the industry, China's evolving outboard market, supply chain predictions for 2022, embedded videos and much more…
In the Oct | Nov issue, IBI reviews innovations driving the US marine equipment market along with a look at the varied facets of the Dutch boating market, including boatbuilding, Superyachts and equipment. Also on the radar in this issue is China's growing outboard business, and the unique position of Estonia's boating market between Scandinavia and Russia.
In addition, we speak with Wally Founder Luca Bassani on the role of colour in design, Royal Huisman CEO Jan Timmerman on the yard's move into motoryachts, and Chad Lyon of Wells Fargo Marine Group about the state of demand in the US market.
Other insights come from BRP on its vision for the new Sea-Doo Switch and Mission Critical Electronics CEO on the increasing demand for onboard power.
And with METSTRADE 2021 around the corner, there is plenty more to talk about – including this year's Boat Builder Awards, Supply Chain predictions for 2022, new products and trends in Sustainability and Electronics, along with the Movers & Shakers in these sectors.
INSIDE THIS ISSUE of IBI >>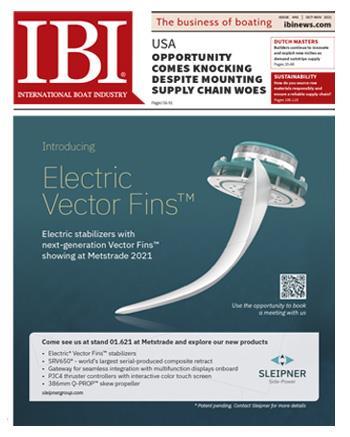 Regulars:
Editor's Comment | Appointments | World News | Sustainability
Market Focus:
US Marine Equipment | Netherlands | China Outboards | Estonia
Insight:
Luca Bassani on colour | Royal Huisman's move into motoryachts | Kevin Moschetti discussing onboar power systems | Chad Lyon of Wells Fargo Marine Group on US boat demand
Sector Focus:
Sustainability | Electronics for Docking, Piloting & Navigating | Movers & Shakers
Digital Subscribers >> Click to view the current issue
If you are not already subscribed to IBI Magazine, get your complimentary copy – in print or digital format – by completing your user details at this link.
(Note: You must be Registered and Signed-in to your account first.)