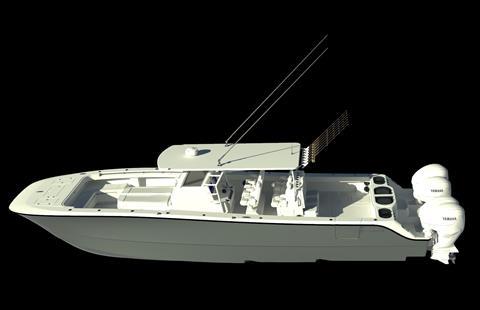 With the Miami International Boat Show (MIBS) right in its backyard, Invincible Boats – maker of monohull and catamaran open fisherman-style offshore boats since 2006 – announced a new model and a new branding campaign as the company begins international operations as part of an aggressive growth campaign.
"We're going to continue to invest in monohulls; that's half our business. We've got a [catamaran with a] tremendous proprietary running surface… Invincible is a very dominant player in this premium space and are going to continue to grow," said CEO John Dorton, who took the company helm in July of last year.
"We're already second in the 30ft-40ft categories of premium sport fish boats. Even amongst the bigger builders, the mass builders, we're already in fifth place."
Dorton said the Miami-based builder will use that momentum to communicate Invincible's DNA to a wider consumer base through a new 'When You're Serious' marketing campaign, new social channels, like on-line fishing tournaments between owners in different locales, and expanding into the international market for the first time.
"We have dealers now from Boston all the way to California [in the US]." Dorton explained. "We're expanding internationally with four new dealers internationally. We're also expanding our direct sales venue with a new showroom, new retail centre and design centre right here."
The new international dealers include Saint Martin, Japan, and two in Australia, markets that VP of International Business, Ian Birdsall, told IBI lend themselves well to the newly-minted 46ft catamaran introduced at MIBS. Markets, Birdall said, that have big water and a customer base already accustomed to power cats.
"Which are the markets where we can really get the most bang for the buck as it were. Australia, yes, I think we can. I think the Middle East's got potential for us. I think Asia has got potential for us, notwithstanding the current situation. So, you really got to target the markets that will give us the quickest return, not just in terms of sales, but in terms of getting that brand name out there."
The new 46ft is the fourth cat in the Invincible line-up since it introduced a 35-footer in 2017. They also offer cats in 37ft and 40ft models. The monohull line runs in three-foot increments from 33ft-42ft with the latter also available in a mid-cabin model.