Three days after the 130 mph winds and torrential rains of Typhoon Hagabis hit central Japan, the full effects on the marine industry are still unknown
With the death toll thought to be more than 65 and rising from the devastation wrought by Japan's worst typhoon in 60 years, it is becoming clear that coastal regions were probably more fortunate than some of the central inland and mountainous areas where widespread flooding and landslides have taken a significant toll. In these central inland districts, more than 20 broken dams and 140 overflowing rivers have caused extensive destruction to infrastructure, businesses and homes.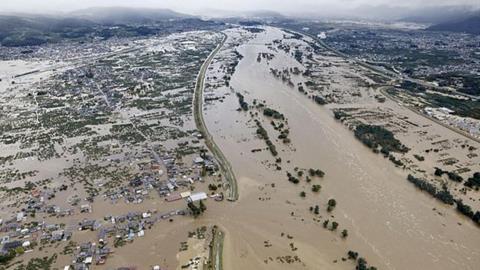 In time, reports of damage and loss to marina facilities and boats – from both recreational and fishing fleets – will inevitably emerge as well. For now, IBI's Japan correspondent reported that the major marine engine manufacturing plants and offices in the western Shizuoka region in cities such as Iwata and Hamamatsu were not too badly affected and fortunately production has not been disrupted.
However, Tohatsu reported that's its engine test site on the Arukawa river in the Saitama prefecture was destroyed and several test boats lost. In another reported incident, a plant for the disposal of abandoned boats in the Chiba Prefecture (in the greater Tokyo area on the east coast) was also destroyed.
With thousands still stranded in shelters and a lengthy recovery period ahead, it may be weeks before the industry learns the full impact on Japan's marine production and supply capabilities.