Click REGISTER to sign-up for your complimentary copy of IBI magazine, in print or digital format.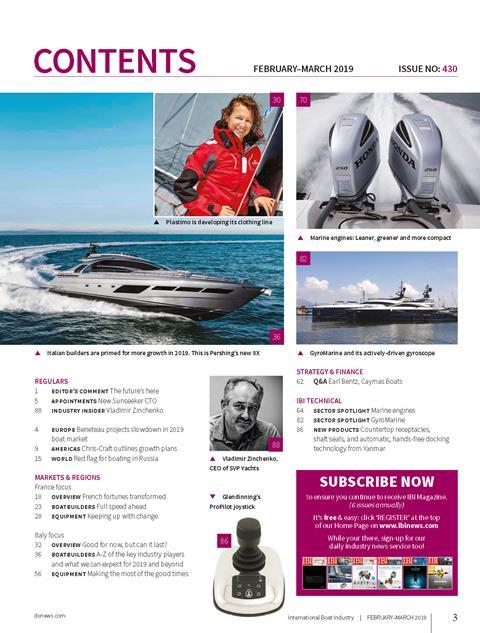 Editor's Comment
The Future is Here
One of the key launches at Boot Düsseldorf this January wasn't a boat, but Raymarine's new DockSense assisted docking technology, which the electronics firm unveiled jointly with partners Prestige Yachts. It's the latest in a trickle of exciting new technology aimed at improving user experience and accessibility to boating. Volvo Penta unveiled its own self-docking solutions in June last year with plans to bring them fully to market in 2020; while in early February IBI reported on Yanmar's collaboration with the Japan Agency for Marine-Earth Science and Technology (JAMSTEC) for its own potentially revolutionary auto docking offering – again, it is destined to be applied to Yanmar's recreational marine and fishing vessels in Japan next year. The future, it seems, is catching up with our industry.
Talking to Prestige Yachts' new CEO, Erwin Bamps, after the DockSense launch was enlightening. The tie-up was symbolic of a systematic drive – not just by the French builder, but industry wide – to reach out to new customers by taking the stress out of boating. But Bamps was keen to take it a step further. Auto-docking is just the start. Boats clubs, peer-to-peer platforms, and fractional ownership schemes are all gaining traction and just the start of broadening boating's base.
We're in the midst of a quiet revolution, one that Bamps is convinced will change the face of our business. In short, the way a successful boat business operates today will not be the way a successful business will be operating in 10 years' time.
"The way boats are constructed will change, the way they're marketed and sold will change. We're questioning everything," Bamps proclaimed. Prestige's parent, Groupe Beneteau, benefits from the purchasing power and scalability to drive innovation and no doubt will be at the vanguard of this change. However, widening the sector's appeal has to be a common goal.
Significantly, Bamps told me that he was keen to see DockSense adopted outside the Beneteau Group – for other builders to help in the push to encourage not just new customers, but those owners of sub-40ft boats who have been reluctant in the past to take on the personal challenges of running a bigger vessel. The cake, it seems, can be bigger for everyone.
It's a tantalising prospect.
Ed Slack | IBI Editor
Click here to download the latest copy of IBI; and REGISTER NOW to ensure you receive a complimentary print copy of every IBI issue – in the post, or via a digital file delivered direct to your inbox.