Gains in net sales, gross profits and net income mark strong start to 2019 fiscal year for US fibreglass boat builder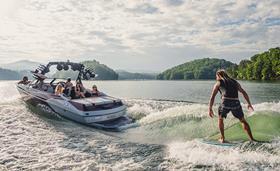 Tennessee-based Malibu Boats has released new financial results marking gains in net sales, unit volumes, gross profits and net incomes for the first quarter of its 2019 fiscal year.
The manufacturer of Malibu, Axis, Cobalt and Pursuit fibreglass boats reported Q1 net sales of US$123.5m for the quarter ended September 30, representing a 19.3% year-over-year gain over the same quarter in FY 2018.
Unit volumes for the quarter were also up over the previous year, reaching 1,516 boats and representing a 15.8% YOY gain.
Gross profits for the quarter were reported at $30.5m, representing a 30.5% YOY increase, while net income increased by $12.0m or $0.55 per share, marking an 87.3% YOY gain.
The company further reported an adjusted EBITDA of $22.9m, up 29.7% over Q1 2017.
"Fiscal year 2019 started strong, with our first quarter results delivering robust growth and increasing profitability," says Malibu Boats CEO Jack Springer. "Our new 2019 models have already generated excitement across the board, and dealer inventory levels are attractively positioned.
"We also continue to strive to be the most efficient operator in the industry, and our continuous improvement initiatives at Cobalt and Malibu drove further margin expansion in the first quarter. In addition, Malibu is positioned to see minimal impacts from volatility in the global trade environment based on our limited exposure and proactive management."
The company's increase in net sales and unit volume was attributed to strong demand for new models and continued strong demand for its larger Axis A24 watersports model. Net sales from the firm's Cobalt segment increased to $48.3 million for the first quarter, representing a year-over-year growth of 30.7% on strong demand for its R series models and stronger sales in Australia.