Maritime Research Institute of the Netherlands invites yacht and shipbuilding parties to team up in a two-year Joint Industry Project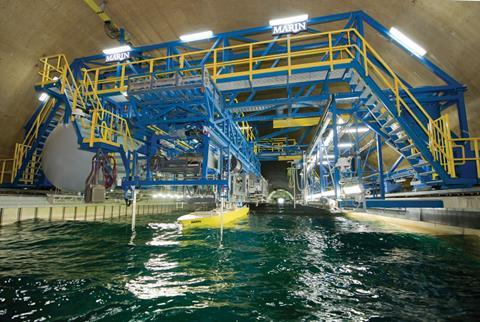 Foils are everywhere these days – from water taxis to sailing yachts – but not enough is known about their performance in unsteady conditions.
The Maritime Research Institute of the Netherlands says for foils to perform safely, comfortably and efficiently, more detailed knowledge is needed. At the Monaco Yacht Show, it invited yacht and shipbuilding parties from around the world to team up in a two-year Joint Industry Project to gain "insights into the performance and dynamic control of foils in unsteady conditions."
MARIN often stages maritime sector JIPs whose participants share the research costs and benefits. The foils project is due to start next May and run for two years.
"The series will contain a number of foils available from literature, i.e. reference cases, but also novel designs developed with the JIP participants," says MARIN's Francisco Miguel Montero, who drives the foils research project.
He adds the goal is to generate a "practical and contemporary foil design" for steady and unsteady conditions. "In this way the time and costs needed to study foil-equipped ships are expected to be reduced as risks can be assessed at a very early stage."
Foils are not new, but breakthroughs have always come in fits and starts due to material or dynamic control issues. MARIN thinks foils' future look good now in passenger transport, yachting, fast naval vessels and shipping of time-sensitive goods.
"The yachting industry will benefit in terms of onboard comfort and cruising in breezy conditions," says MARIN's Luigi Francesco Minerva.
The foils research will pay special attention to dynamic control. Better computational power has led to more precise ride control. But that requires more insight into how foils behave in unsteady conditions. The JIP is to deliver a design methodology that will lead to better, wide-range applicable foil designs.
MARIN sees the research benefiting foil designers, shipyards, naval architects, navies, America's Cup teams, classification societies, research institutes and universities.
All foil models will be manufactured on a five-axis milling machine and tested in MARIN's Depressurized Wave Basin. MARIN says JIP participants attend progress meetings twice a year and have full and exclusive access to project reports, software and the confidential project website.