New facility offers some 400 wet berths for yachts up to 65m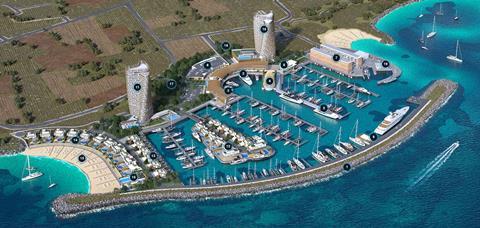 The latest Cypriot marina development, the €300m Ayia Napa marina, is close to completion and will be ready in time for the Mediterranean summer season, although with the coronavirus pandemic it is not sure how that season might be impacted upon.
Ayia Napa marina is the latest in a number of new marina projects in Cyprus – such as at Larnaca and Pharos – that are in various stages of development, be it planning or construction. This new destination marina will offer a total of some 600 wet and dry berths for yachts and superyachts up to 65m (213ft). The 220-berth dry stack will be able to accommodate yachts up to 10m (33ft).
This major project provides a full-service marina including a boatyard, fuel, marina village with commercial, retail and F&B, plus over 200 apartments and some 35 beachside and marina located villas.
According to a Cyprus Property News report, the marina's administration building, boatyard facilities, government services for such as customs, police port and medical and port officials, have all been completed and met the necessary certifications required. The substantial breakwater that protects the whole facility is also finished.
The marina project was developed in a joint venture between Naguib Sawiris, the Egyptian billionaire entrepreneur associated with the diverse Orascom group, and local businessman Stavros Caramondanis. He is the CEO of MM Makronisos Marina, the company which secured the concession to operate the marina over the next 30 or so years.
Caramondanis was quoted in the Cyprus Property News report as saying: "At the pace with which works are proceeding, Ayia Napa Marina will soon become a reality for both residents and visitors, promoting an upgraded and modern way of life close to the sea, combined with functionality, comfort and luxury. We are proud to see construction works underway at such a fast pace, as our vision becomes reality, day-by-day."
He added: "We are sure that this development will substantially contribute to the revitalisation of Ayia Napa, transforming it into a jewel of the Eastern Mediterranean. The entrance and berthing of the first boat on January 27 marked the beginning of the marina's pilot operations."
The Swiss-listed Orascom group owns and operates a wide range of business activities including marinas in Egypt, Jordan, and Montenegro; hotels, resorts, real estate and telecommunications.