Dredging underway for initial phase of 318-slip Burnett Heads marina project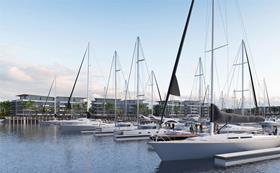 Water-based development and harbour dredging are currently underway for the first phase of a proposed 318-slip, state-of-the-art marina facility being constructed at Burnett Heads on Australia's Coral Coast.
The proposed Gateway Marina development is described as a high quality, mixed-use marina village located on the southwestern shore of the Burnett Heads boat harbour, consisting of short-stay accommodation, boutique retail stores, cafes and restaurants, gymnasium, offices, the marina facility and a yacht club.
Simon Harvey, managing director with Sydney-based BH Developments QLD Pty Ltd (BHD), said the development firm was excited by the opportunity and encouraged by the strong support of local government authorities.
"With marina projects, creating a safe, sheltered harbour usually becomes the responsibility of the developer," he said. "In this case, the harbour already existed, and the fact that it is in an idyllic setting surrounded by so many amazing and accessible attractions makes it the perfect location. The strong support we have received from the Bundaberg Regional Council and Gladstone Ports Corporation has also been very refreshing."
The Gateway Marina complex will be designed in keeping with criteria outlined by the Marina Industries Association of Australia's Clean Marine program, which align with the internationally-recognised ISO14001 Environmental Management Plan.
Expressions of interest are currently being sought for the first 58 marina berths to be constructed as part of the first phase of development, intended to accommodate single and multi-hull vessels up to 27m in length and commercial vessels up to 32m in length.
"This is a considered, staged development and we want the community to share the journey with us," said Harvey. "As we move through the consent process for the land-based project, we are launching an introductory expressions of interest campaign for the first 58 marina berths to be built in the first half of 2019 under an existing approval. Following consent for the land-based project, we expect construction to commence immediately on the first of the commercial buildings."