Trinity Point Marina in New South Wales now has 88 berths for yachts from 10m-18m, with another 100 to come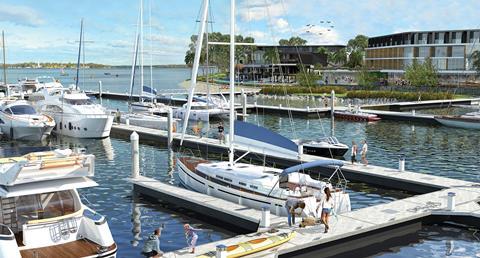 One of the latest projects for Bellingham Marine in Australia involves the first phase completion of Trinity Point Marina on Lake Macquarie in New South Wales.
The marina is a key component of the A$388m mixed-use development which includes a luxury resort, residential provision, retail outlets and F&B facilities. When completed, it will be one of the largest mixed-use projects in New South Wales.
Phase 1 of the marina includes 88 berths for yachts from 10m-18m (33ft-59ft), with another 100 berths to follow in Phase 2. The marina includes both wide fairways and berths, with Bellingham Unifloat concrete pontoons being used to offer wide fingers and walkways. Wave protection is provided by a 4m-wide, 237m-long curved Unifloat wave attenuator.
The marina includes a fuel dock with high-speed fuel dispensers, berths with Mtec service units and CCTV security. There is also sewer pump-out and the marina has a minimum depth of 3m.
Trinity Point is being developed by the Johnson Property Group (JPG) and the development is anticipated to enhance the profile of Lake Macquarie, catering both for visitors and locals alike.
Keith Johnson, managing director of the JPG, says: "It's been a long and challenging journey but worth it. The opening of the marina is a big step forward in the A$388m master planned project."
JPG hired international marina builder Bellingham Marine to help with detail design and construction. "It was critical we did the marina right," said Johnson. "It was a major key to what we aimed to achieve. It had to be something special."
John Spragg, Bellingham Marine's president for Australasia and the Middle East, says: "From an operational standpoint, boater experience is paramount. Give boaters a stress-free, enjoyable experience and your berths will quickly fill. Trinity's purpose-designed wave attenuator is a big piece of that. It ensures a safe, tranquil harbour in all weather."
Trinity Point has also made a strong stance for environmental responsibility. Concrete docks with FRP thru-rods, light filtering decking on gangways and approach piers, a well-flushing basin and ongoing monitoring of water quality highlight the development team's commitment to caring for the lake as a cherished natural resource.