Paarden Island is home to several of the country's biggest builders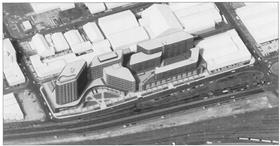 The City of Cape Town has approved a R1bn mixed use development on the doorstep of South Africa's boatbuilding industrial hub, the local Sunday Times newspaper reports.
The decision last week by the City's Municipal Planning Tribunal flies in the face of several objections, including from the South African Boat Builders Export Council (SABBEX). Paarden Island is home to several of the country's biggest builders, including Robertson & Caine, Voyage Yachts, Two Oceans Marine and Nautic Africa. In their objection SABBEX claimed the lifting of title deed restrictions in Paarden Island to allow non-industrial land use would drive up land prices and force maritime stakeholders to relocate further from the port.
The new development includes a 54-storey hotel, shops, offices and residential accommodation – including affordable 'social housing' that is in short supply close to the city centre.
The town planner involved in the project, Tommy Brummer, said there was currently no boatbuilding activity on the proposed development site. "Note that the existing site contains almost no industrial uses and no boat building activities and the concerns of the boat building industry are ill founded," Brummer told the Sunday Times.
The development proposal also received support from social housing lobby group Ndifuna Ukwazi, which believes the development is in keeping with the city's 'Inclusionary Housing' policy aimed at providing affordable housing in well-located areas. The lobby group, which made an oral submission to last week's MPT application hearing, wants government to actively address the Apartheid legacy of racially segregated housing development.
However, some of the city's own departments were opposed to the development, despite pressure for the city to provide social housing opportunities. A Municipal Planning Tribunal report tabled at last week's hearing recommended against the development, citing concerns about the industrial location: "Paarden Island is a well located, high performing industrial area near the port. The proposal will represent the loss of a scarce economic resource which could not easily be replaced elsewhere," said the city's Enterprise and Investment Department in the MPT report.
In their written objection SABBEX said mixed-use development should not come at the expense of industrial development, particularly in the current difficult economic climate. "It has taken decades to build this industry in the Paarden Island area," SABBEX executive director Vanessa Davidson said in the objection. "It is further anticipated that should these two applications be approved it will open up the area for more departure and development applications that will intrinsically change the Paarden Island area from a light industrial area to a mixed use residential/retail space, pushing the marine manufacturing and boatbuilding industry further and further away from the water," Davidson said.