Navy Pier to be full-service marina, with concierge service, 24-hour secure access
Chicago and Lake Michigan will get its first "transient" marina in 2021 when a US$9 million project begins construction in the autumn of this year at the city's historic Navy Pier.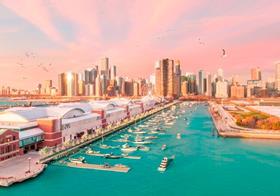 Approved by the City Council in 2016, Navy Pier Marina is the passion project of commercial real estate developer and boater Randy Podolsky, who has put together private financing for the facility, which is intended to provide boaters easy access to the city with hourly, daily and weekly mooring options available for boats up to 130ft, according to a statement about the project.
"Every time I go boating, I think to myself, 'Why can't I park at Navy Pier?'" Podolsky told Crain's Chicago Business. "And I know that thousands of other boaters feel the same way. It seems like such a waste."
Navy Pier will be a "full-service marina, with concierge service, 24-hour secure access and expert staffing," according to the statement, with in-slip pump out, electrical and water services, but no fueling capability.
Mooring is not an issue in Chicago, which has experienced years of declining occupancy at its 10 harbors, but the transient focus could give the new marina an edge, according to some local boaters.
Renovated and reopened in 1995, Navy Pier has been a tourist destination offering dining, shopping, dinner and sightseeing cruises, as well as live music venues and an eclectic mix of other amusements.
Opened in 1916 as Municipal Pier, it was renamed in 1927 as a tribute to the Naval personnel stationed there during World War I.