Limassol Marina is the fifth marina in the world to receive the prestigious distinction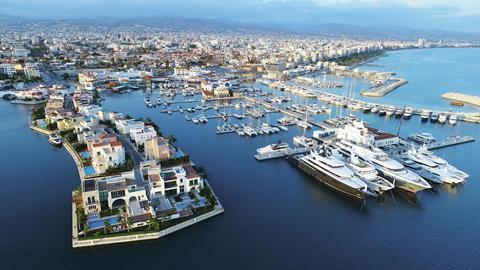 Limassol Marina, the first full-service superyacht marina in Cyprus, has received the prestigious 5 Gold Anchor Platinum Award – the highest distinction for exceptional marinas across the world, providing outstanding customer services and facilities.
The official announcement was made at the opening ceremony of the 2019 Limassol Boat Show on May 9 in the presence of government officials, selected guests, yachting entrepreneurs and media representatives. The award was presented to Tom Lord, marina manager of Limassol Marina, by Tony Dye from The Yacht Harbour Association (TYHA).
Jointly administered by TYHA and Australia's Marina Industries Association (MIA), this global scheme aims to raise standards in marinas across the world that provide high-quality customer-centric services. The evaluation comprises 89 separate Gold Anchor criteria, covering all areas of the marina operations, with a particular focus on facilities, customer service and infrastructure. Hence, the scheme helps customers in the evaluation and selection of marinas aligned with their needs, while overall contributing to continuous business improvement.
Limassol Marina, having been successfully assessed and granted the 5 Gold Anchor Platinum Award, is the fifth marina in the world to have received this prestigious distinction. Andreas Christodoulides, CEO of Limassol Marina, expressed his gratitude for this accreditation and acknowledged the relentless efforts of Limassol Marina's team in providing the highest quality of yachting services in Cyprus.
"Being one of the five marinas in the world to be honoured with such an award strengthens our commitment to advancing the quality of services offered to our tenants, visitors and guests, while establishing Limassol Marina as the ultimate yachting ambassador of Cyprus, abroad," said Christodoulides. "Limassol Marina is now part of an elite group of trusted high-level marinas in Cyprus enhancing the island's image on a global scale."
The waterfront development has previously collected important awards and accolades, such as the 5 Gold Anchor and Blue Flag awards, reflecting its commitment to quality services, environmental protection and best practice standards.