Dubai Holding and Meraas share in new venture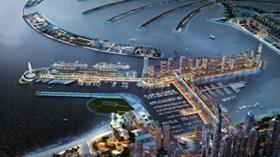 A new joint venture partnership, designed to further boost Dubai as a global yachting hub, has been signed between D-Marin, Dubai Holding and Meraas. This brings together a clutch of marinas in Dubai with D-Marin's network of 11 marinas across four countries in the Eastern Mediterranean.
D-Marin is the marinas division of Turkey's Doğuş Group, which also owns MB92, Compositeworks and Blohm+Voss La Ciotat.
The new partnership has a number of key objectives:
D-Marin will help Meraas and Dubai Holding in the management of world-class marinas in Dubai
The partnership seeks to attract new global investments and increase the marina sector's contribution to promoting UAE's sustainable tourism growth and GDP
Create a regional hub in Dubai to meet increasing demand for marina development and management in the GCC region
Identify marina development and management opportunities in the Middle East and Far East regions
Dubai Holding is already involved with a number of existing Dubai marinas and new projects. Dubai Harbour is the biggest project and this will provide 1,200 berths up to 85m (279ft). Dubai Holding also owns the Jumeirah Beach Hotel and marina, the Dubai Creek marina and the Marasi marina. Meraas, a leading Dubai real estate developer, recently announced its Port de la Mer project (see IBI September 23, 2018?).
The joint venture agreement was signed by Abdulla Al Habbai, group chairman of Meraas and chairman of Dubai Holding, and Ferit Şahenk, chairman of the Doğuş Group, the parent company of D-Marin.
Al Habbai commented: "This agreement will contribute to attracting new foreign investment to Dubai, which has high rates of direct investment growth in high-value sectors. We are committed to contributing to the diversification of Dubai's economy and promoting sustainable growth by increasing the contribution of new vital sectors."
Şahenk added: "Dubai has become an inspiring story of development in the past decade and the agreement aims to establish world-class marina facilities in the UAE. Through this partnership and our regional centre in Dubai, we will invest in the long-term potential of this city and look forward to taking advantage of opportunities in the management and development of marinas in the GCC region."
The partnership will manage and operate the existing and future marinas being developed by Meraas and Dubai Holding, including marinas in Port de la Mer, Dubai Harbour and Jumeirah Beach Hotel. It also seeks to establish a regional centre with global standards for the renovation, service and maintenance of luxury yachts and boats in Dubai, similar to the D-Marin-backed MB92, which is currently serviced by branches in Barcelona, Spain and La Ciotat, France.
It also includes long-term provisions for the development of additional marina lifestyle offerings through a broader ecosystem of services and investments that extend into other sectors in the Middle East and Far East regions.
The total value of the maritime sector in the UAE is expected to reach about $66bn by the end of 2018, while the value of the recreational boat industry ranges between $1.3bn-$1.5bn. The UAE ranks ninth in the world, confirming its leading position in the leisure maritime sector with the build of 14 new luxury yacht projects with a combined length of 611m (2,006ft) being manufactured locally this year.
In reality, Dubai is already a global hub for large luxury yachts and with all the marina development already completed, in construction and planned, there is a potential that it will be oversubscribed with berths. While there may be potential for homeporting in the UAE, the country lacks any serious cruising grounds for the largest yachts, the nearest area being in Oman.
With Dubai Holding being a state-owned company, this new partnership sets up an interesting match with another state-owned company DP World. The latter owns P&O Marinas, which currently operates five marina facilities in Dubai and earlier this signed an agreement with Monaco Ports to develop marinas in the Mediterranean and Middle East.
The planned second edition of the Dubai International Superyacht Summit, organised by P&O Marinas, will have plenty of issues to address.