The city purportedly loses nearly half-a-million-dollars in marina revenue per year to the Miami International Boat Show
While officials in Miami, Florida continue to debate best practices, revenue enhancement and whether the city should be in the marina business at all, new reports indicate the city loses nearly half-a-million-dollars in marina revenue per year to the Miami International Boat Show (MIBS).
Miami leases management of most of its public marinas but operates Dinner Key Marina, Miamarina at Bayside, and Marine Stadium Marina – a dry storage facility.
According to Miami Today news, Daniel Rotenberg, director of the city's Department of Real Estate and Asset Management, reported on losses at the dry dock facility related to the city-owned site being used to stage the annual Miami International Boat Show.
The city has licensed use of the property and water surrounding idled Marine Stadium for the boat show for the past four years. Rotenberg said some dry stacks were removed from the Marine Stadium Marina due to the boat show and were never replaced, amounting to an annual loss of US$240,000 revenue, on top of more than US$150,000 in concessions granted to MIBS.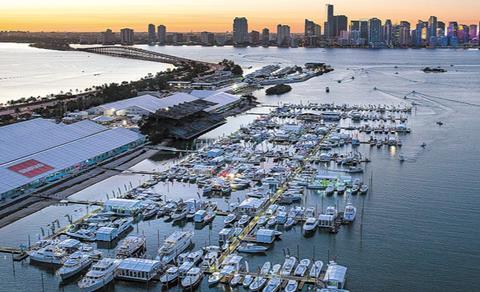 On the flip side, a 2017 study reveals the Miami show generates an annual economic impact of $854.2 million for Miami-Dade County and the state of Florida - including labor income for approximately 6,000 full time jobs totalling $290 million; some $57 million in sales and excise taxes; and $53 million spent on local hotels, restaurants, retail shops, entertainment and transportation.
City Commissioner Joe Carollo said he thinks the financial hit to the Marine Stadium facility has been even more substantial and repeated his desire to see the marina operated or managed privately. "That's still not what I'm seeing… We need to put real management there," said Carollo, who again stated his belief that many city properties are not bringing in the amount of revenue they should.
According to the city's website, Marine Stadium Marina was one of South Florida's largest full-service dry storage marinas.
Before dry storage racks were removed, the facility was capable of storing 300 vessels with a length of up to 45ft and gross vessel weight of 18,000 pounds, and the operation brought in an average of $1m a year to the city.
At Dinner Key Marina, the city is still awaiting Federal Government funds to repair hurricane damage.
"I don't understand," said Carollo, who said the private company that operates a marina at the nearby Monty's site has been able to rebuild docks damaged in the same storm – Hurricane Irma in September 2017.
The city is expecting close to US$7.5m in Federal funds and an additional US$3m from business interruption insurance.
Rickenbacker Marina on Virginia Key continues to operate under private management on city-owned property. The fate of that marina is in limbo and is tied to the operations at nearby Marine Stadium Marina.
A request for proposals in 2017 had a new process determining Virginia Key LLC as the top ranked proposer, for lease and development of the city-owned marinas. The request includes Rickenbacker Marina and Marine Stadium Marina.
Controversy continued to follow the marina matter as the second-place bidder – the current operator of Rickenbacker Marina – filed a bid protest.
Under the new process, the case was heard by a special master who backed up the selection of Virginia Key LLC. The second-ranked proposer then went to court, where the matter has lingered for more than a year.