Investigators yet to determine cause
The United States Coast Guard (USCG) and local fire officials are investigating a blaze early Monday that sank two small yachts and threatened local waters and wildlife with over 2,000 gallons of diesel fuel that is now leaking from the submerged vessels at a New Jersey marina.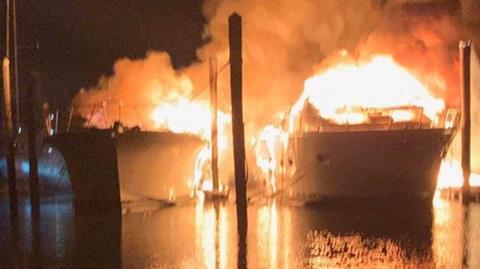 The fire was reported around 1:00 a.m. at the Seaview Harbor Marina in Egg Harbor Township, and Marina Manager Joe Stewart told Eyewitness News that the fire involved the Majestic and the William G., 58 to 65-foot cruisers, which both sank in 8-feet of water.
Both vessels continued to burn and leak fuel after sinking, which required use of a firefighting foam truck from the New Jersey National Guard used to smother the flames and help contain the leaking diesel.
USCG Chief Petty Officer Christopher Brady told the Atlantic City Press that USCG pollution investigators have been on the scene.
"Our goal is to ensure safe operations and to help mitigate environmental impacts resulting from the discharge," Brady said.
A USCG news release states the "responsible parties" are drawing up a salvage plan, which will need the Coast Guard's approval. The boat owners are liable for the costs of salvage operations.
Investigators have not yet determined a cause.