HRADF accepts improved offer of €6.21m for the 180-berth marina in Chios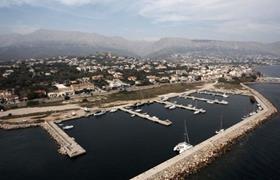 Greece's privatisation agency, the Hellenic Republic Asset Development Fund (HRADF), has accepted an improved bid of €6.21m for the 180-berth Chios Marina in return for a 40-year concession on the facility.
The winning bidder is a consortium that comprises Avlum Enterprises Co Ltd, Ioannis & Elias D Tefas Nafpigoplastiki, Cleopatra Marina SA, and Touristikos Limenas Prevezas SA. The bid was accepted after the HRADF sought an increased bid fee from the consortium in mid-December.
The marina, along with the 1,200-berth Alimos Marina in Athens, was advertised for sale last in a new initiative by HRADF to privatise a number of state-owned leisure marine facilities.
Chios Marina can berth yachts of up to 25m (82ft) and boasts 6,900sq m of land that can be developed for recreational and tourism-related interests.
In a statement, the HRADF states: "The improved financial offer amounts to a total consideration of at least €6,213,615, comprised of an upfront payment of €600,000, an annual concession fee and a revenue sharing expressed as a percentage of the marina's annual turnover."
The consortium will be investing an unspecified amount to complete the marina, which was originally started in the late 1990s but never completed.
As for Alimos Marina, one of the largest in Greece, no information on the current privatisation initiative has been received. During a visit to the marina by IBI in October, privatisation of the marina was expected to be completed by the end of 2018.